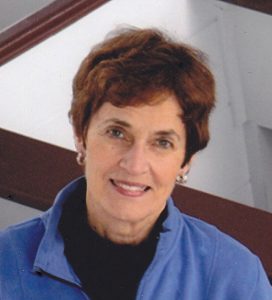 Bev Smith lives by this motto: "put your life, time and talents into work, play and meaningful endeavors that will benefit not only yourself but also those you are called to serve."  An energetic, purpose driven person, Bev has strong values and is very clear and persuasive in convincing and motivating others.  Through her activities, she has shown her strong commitment to women and children, the environment and the dramatic arts.
Born in Elkhart, Indiana in 1938, Bev always had a strong work ethic.  At age 12, she spent the summer days working at her uncle's food market (at $.20 per hour) and frequent evenings and weekends babysitting.  During high school, she worked at a local dress shop after school and on weekends to earn money for a college education.
Bev was greatly influenced by her high school speech teacher, Galen Wenger.  He encouraged her to compete in local and state speech contests and to participate in radio broadcasts Mr. Wenger directed weekly.  She appreciated Mr. Wenger treating girls and boys equally.  Bev was chosen the 1956 Outstanding Senior in Speech and won the Best Thespian Theater Award.  Bev, performing dramatic readings as her talent, was Miss Elkhart in 1957 and 1958 and was runner-up in the Miss Indiana pageant in 1958.
As an outstanding student, Bev received a scholarship to Indiana University.  She also studied at the Pasadena California Playhouse of Theater Arts.  In 1958, she toured the United States for a year with the "Bishop's Company," a repertory company performing educational and entertaining plays in churches, schools, prisons and for community groups.  Returning to Indiana, she transferred to Goshen College, earning a degree in Speech and Theater.  Later, she obtained a Master's Degree in Reading Education from the University of Wisconsin-Oshkosh.
Bev met her husband, Stu Smith in 1960, when they performed in the South Bend Civic Theater production of "Sorry, Wrong Number" and he "murdered" her nightly. They married in 1961 and Bev taught English at Concord High School until Stu received a discharge from the Navy.  They moved to Green Bay in 1963.  When the local radio station refused to hire her, because she was a woman, she became Director of Public Relations at the West Side State Bank and became the first woman spokesperson for a local bank. For eighteen years, she did radio and TV commercials as "Beverly at the Bank."
For twenty years, Bev was a reading teacher and reading specialist with the De Pere School District helping students improve reading and comprehension skills.  She also organized elementary readers theatre groups called The Dickinson Funreaders who performed poems and stories throughout the school year.  For her efforts, Bev received a special recognition award from the PTA in 1985.  After her retirement in 1998, Bev continued volunteering weekly, directing small groups of third grade Funreaders at her former Dickinson School.
Since the 1960's, Bev and her husband Stu have created and presented dramatic productions.  They founded the Chancel Players and performed drama in the church for several years. They organized Interact Theater of Concern presenting plays on environmental, peace and justice issues. At the conclusion of these plays, they would encourage the audience "to care enough to make a difference in the world, which so needs our care."  Bev took this to heart and made it her life mission.  For five years, Bev organized a week-long celebration of life, "Man Alive!" This featured local artists, choral groups, plays and lectures.  The Smiths also created and co-directed the Heritage Players, a local theater group performing plays and programs of local history at Heritage Hill, the Neville Museum, UWGB and other places.  They are particularly known for the Tombstone Walks at Woodlawn Cemetery, where they portrayed local historical figures such as such Elizabeth Baird, Daniel Whitney, and Arthur and Ella Neville.  In 2014, the Brown County Historical Society awarded the Smiths the 2014 Award for Outstanding Contributions to the Interpretation and Preservation of Local History.
In addition to her passion for theater, Bev has a strong Christian faith to help those in need. Through her church, she helped organize the Circle of Friends, a support group for pantry women; volunteers weekly at the Good Will Pantry; serves as a caregiver visiting older and less mobile members of the church; is active in the United Methodist Women's mission groups and participated in three trips to Lithuania to learn more about and deepen relationships with members of a partner congregation.
To a variety of audiences, Bev Smith has brought to life the lives of more than 22 historical women who made a positive difference in the world.  She researches, writes her own scripts and appears in appropriate costume. Her portrayals are always personal and often very moving.  These portrayals were inspired by Cloris Leachman's portrayal of American folk artist Grandma Moses.  Examples include, Grandma Moses, Rachel Carson, Margaret Mitchell, Zona Gale, Anne Morrow Lindbergh, Pearl Buck, Belle Case LaFollette, Nellie Bly, Juliette Lowe, Edna Ferber, Susan B. Anthony, Edna St. Vincent Millay, as well as, local women Elizabeth Baird, Elizabeth Smith Martin, and Ella Neville.  Grandma Moses said, "Life is what you make it."  Bev hopes these portrayals encourage women to use their abilities and talents and fully participate in the future of our communities, our country and the world.  Bev describes this work in her poem, "Portrayals in Pieces":
"….Every woman portrayed left her identity,
her causes, her cares imprinted on me:
Rachel Carson's voice for the earth
gave me power to speak
Margret Mitchell's struggles to write
gave me gumption to go on
Anne Morrow Lindbergh's "gift from the sea"
gave me the insight to really see
Susan B. Anthony's fight for women's rights
helped me to take a stand
Pearl Buck's worldly view
opened for me a concern for others
Grandma Moses's passion for living
gave my retirement a definite refirement
…
"I am who I am! My life is now whole.
Their lives gave me meaning, purpose and soul."
Bev and Stu have two daughters, Valerie Loughney and Theresa Hermes Moser and two grandchildren, Erin and Sean Loughney.  Bev considers her role as grandmother one she cherishes the most.
The sex discrimination Bev encountered only motivated her to do more.  Her advice: "Only you can decide if the obstacles in your life will be stumbling blocks or stepping stones.".  When she reached her 75th birthday, she was asked if she would slow down, Bev's response, "I am re-fired as an actress and will continue to perform as long as I am able.  My goal is to perform as long as Grandma Moses painted – until she was 101 years old!"  Bev, a gifted artist, has been generous and tireless in bringing her gifts to the community.