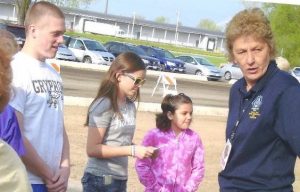 In 2011, Dawne Cramer, was the first female to be named Director of Parks, Recreation and Forestry Department, for the City of Green Bay. It would be completely accurate to say Dawne grew up within the Green Bay Parks Department. She spent her youth in Park programs and activities.  At 12 years of age, she became a part-time park employee. This set into motion a path where Dawne would find her future.
As a high school student at Southwest High School, she umpired youth leagues for the city. She loved working with sports teams and the young athletes of our community. In a time when a woman's role was limited to a few sports deemed "appropriate for women", Dawne challenged barriers and pushing through obstacles. Her love of all sports and determination to participate in them were the driving force in her life.  Her persistence led the way for other young women to participate in sports of their choosing as well.
During her college years, she would return home from UW-LaCrosse and spend her summers as a "Parkee" working with kids who came to "her" park. Dawne enjoyed working with the hundreds of kids who came through the Parks system each year.  Touching so many lives as a dedicated and positive role model, she earned the "James Engel Leadership Award"
After graduation from UW-La Crosse, Dawne worked briefly as a teacher for the Green Bay Area Public Schools. Then in 1977, she returned "home" where she was hired as a Recreation Supervisor for the Green Bay Parks, Recreation and Forestry Department. Here Dawne supervised the Park's summer programs, pools, and leagues. She wore many hats in this role and it suited her well. She challenged each "Parkee" to make a significant difference in the life of at least one child who came to their park each summer. These Parkee's were to consider themselves a role model, someone a young person could look up to.  With this initiative, Dawne and her staff served as mentors to many kids growing up in Green Bay.
In 1994, Dawne was promoted to Superintendent of Recreation for the Green Bay, Parks Recreation and Forestry Department.  Always striving to improve and innovate, she led the Recreation Supervisors in implementation of many new programs. Her efforts were recognized in 2007, when she was awarded the Mayor's "Community Impact Award, Employee of the Year". Dawne always strived to make the City of Green Bay a better, stronger community and she felt that began with the youth of our community. For Dawne, it was never about the awards and accolades, it was always about making lives better.
Upon the retirement of Park Director, Bill Landvatter, in 2011, Dawne became the Parks, Recreation and Forestry Director. After all, who knew and understood the Park Department better than Dawne?  She loved the Parks, she committed herself to all the young people who came through the Park's programs, it was her life's blood. Under her dedication and leadership, the department blossomed. She encouraged her team to be innovative, think out of the box. She challenged the staff to move beyond the traditional, to grow beyond what they had been doing for years. Her direction led to growth in infrastructure and programs for the Recreation Division, Bay Beach Amusement Park, and the Bay Beach Wildlife Sanctuary.
To all who knew Dawne, her word was her bond, a "you can take it to the bank" quality. Her unvarnished honesty, integrity and her complete and selfless dedication to her department and its staff were well known. Dawne was strong-minded, she could be very frank, but at heart was a furiously loyal and loving person. If you had the privilege to know her well, you knew the words caring, compassionate, conscientious, dedicated, determined, loyal, persistent, strong-willed and passionate were attributes, she wore well. Dawne's influence and guidance reached far beyond herself as an individual. She lived by example and set a standard of community service for those whose lives she touched.
A diagnosis of cancer in the summer of 2013 did not slow Dawne down, it could be said it urged her to accomplish even more. During that time, she established a not for profit (501c3) to assist with improvements and additions beyond the City's budget to the Bay Beach Amusement Park. The Master Plan of improvements for the Amusement Park were a result of Bill Landvatter and Dawne Cramer. This included an additional train, more rides, a larger Ferris wheel, new pier, and the reopening of a swimming beach. While in the hospital, medical staff frequently shared with her their days as a "Parkee" and the impact she had on their lives.
Her untimely departure, as a result of her battle with cancer, had a ripple effect across the entire community, as well as, the Parks, Recreation and Forestry, Department she so dearly loved. Dawne was a pioneer in breaking down the barriers that confined women to a narrow role in pursuit of their athletic dreams. While Dawne did not see her plans come to fruition, we as a community can look at them and know this was as a result of Dawn Cramer's leadership.