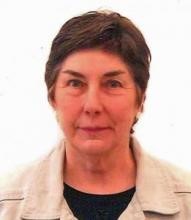 Julie Ann Arneth walks through life with awareness, concern and appreciation for all that is around her.  Her life epitomizes integrity and a deep sense of responsibility for the health and well-being of the world.  She is an educator, a naturalist, a traveler and a leader.  Julie was born June 17, 1940 in Ishpeming, Michigan.
Julie's professional life was that of a teacher in the public schools—Fraser, Michigan, and Green Bay.  She taught junior and high school students in Social Studies, English and Language Arts.  Upon retirement, her commitment to education became even stronger.  She became a substitute teacher, served as the president of the Green Bay Substitute Teachers Association (and their website manager).   Presently, she works as a coordinator and a teacher with the Learning in Retirement organization and is an ESL instructor for Literacy Green Bay.  She is also a judge for the Wisconsin Academic Decathlon and an adjudicator for Wisconsin Destination Imagination.  She especially loves working with those facing special obstacles and with young people.
Julie is also strongly committed to the art and culture of the Green Bay community.  She volunteers as an usher for the Weidner Center for the Performing Arts programs, for the Green Bay Botanical Gardens Spring Flower Show and Winter Garden of Lights. She has been volunteering at Art Street since it began.  She is also a member of the Neville Museum and a board member of the Antiquarian Society of Green Bay and DePere.  Julie is a strong advocate for community arts programs and considers this a vital part of one's education, young and old.
Environment and global issues have always played a major role in Julie's life.  She has participated in Global Volunteers service trips to Mexico, Ecuador and Costa Rica.  She also participated in Sierra Club service trips to Navajo Station and Chaco Canyon in New Mexico, Lake Baikal National Park in Russia and Vieques National Park in Puerto Rico.  One of Julie's most exciting trips was as a Fulbright-Hays Fellow studying emerging nations in the Philippines, Malaysia and Singapore along with a group of faculty from St. Norbert College.  Julie's concerns are not casual—she lives and travels and works tirelessly to learn about and address environmental and global issues.  When asked "Where have you not been in the world?"  Her answer was "Central and South Africa".
Despite the time these significant activities entail, Julie has been one of the League of Women Voters leaders.  Her teaching and concern for environmental and global issues has found a niche in her work with the League.  While serving as the president of the League of Women Voters of Greater Green Bay,   Julie worked tirelessly on helping to organize ways to educate the public on important policy issues and in helping League members to study and advocate for the public's well-being about these issues.  The areas in which she has focused include the Environment, Immigration and Naturalization and Public Education.  On the national level, the League of Women Voters of the United States recognized Julie's outstanding leadership and named her a Ruth Shur Fellow in Leadership Training and Development.
Julie is the best kind of leader.  She enthusiastically supports any efforts other people are making, helps groups focus on plans and action. She herself is always there to "roll up her sleeves" and do whatever is needed to bring a plan to fulfillment.  Sometimes this means her role is not noticed, being subtle or behind the scenes.  This has never mattered to Julie.  She has no selfish or egoistic agenda, but simply wants people to succeed in their important work.
Johanna Arneth, her mother, is Julie's role model.  With only an eighth grade education and no driver's license, she rose through the ranks of the American Telephone and Telegraph Company to an administrative position as a chief operator.   She raised her family, Julie and her brother, to be self- sufficient, what today would be described as a "modern family".