Watch this video for Maria's story.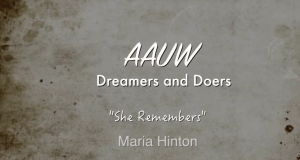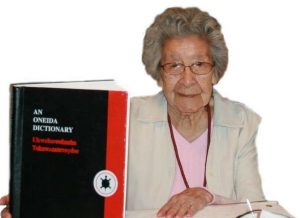 Maria Hinton was a member of the Oneida Nation, a Matriarch, Faith Keeper for the Turtle Clan, leader, Oneida linguist, and instructor for K-Adult education. She had a lifelong passion for her community, especially for the survival of her native tongue-the Oneida language. She had a talent-she remembered her first language and shared it with others especially during the past 40 years of her life. She was known as "She Remembers, (Yake•yahle)" her Oneida name given to her in Canada when she was 46 years old
Maria's first language was Oneida and she didn't learn English until she attended the boarding schools at the age of 7. She was raised by her grandmother Louisa Christjohn, a midwife-whom was a huge influence in Maria's life. Maria also learned the Oneida way of life from her grandmother passing on many traditions and culture. She had one son, Ernest L. Stevens Sr., national known Native American leader, educator, public speaker, and economic development specialist. She had eight grandchildren, 26 great grandchildren and 18 great-great grandchildren. Maria Hinton always taught the importance of the Oneida "way of life," and stressed the importance of the continuum of the Oneida language. In her mind, language and culture go hand in hand.
In 1973, at the age of 63, Maria Hinton participated in the Bureau of Indian Affair's funded Wisconsin Native American Project to assist in integrating Native American languages and culture in primary schools. She attended the University of Wisconsin-Green Bay and graduated cum laude with a Communication of the Arts Degree, in 1979, at the age of 69.
Maria Hinton demonstrated 40 years of dedication to the revitalization of the Oneida Language and she was a pioneering woman nationally known for her determination to not let the Oneida language slip through her fingertips. At Lincoln Elementary School in 1978, Maria taught her students the Oneida language words for different colors and animals. Maria Hinton continued to teach K-Adult students the Oneida Language until she retired at 92 years old.
However, her contributions to the revitalization to the Oneida language did not stop at teaching the language. Some additional contributions that Maria Hinton made to the Oneida language revitalization projects were; Oneida story books and tapes with Oneida and English translations, illustrated by Mary Lemieux Prescott, for kindergarten through eighth grade, co-founder of the Bureau of Indian Affair's funded Oneida Turtle School, curriculum developer for K-Adult instruction and training teachers in this curriculum. She published a booklet called, Collection of Oneida Stories that her daughter-in-law, Patricia Stevens, transcribed for her. This collection consisted of stories translated in both Oneida and English from the Federal Works Progress Administrated historical records survey in 1939.
Maria Hinton collaborated with UWGB professor, Cliff Abbott, and her brother, Amos Christjohn (Deceased) in many language projects. Her most recent project was An Oneida Dictionary, published in 1996 which has become another major contribution to the Oneida people. Furthermore, Cliff Abbott, Professor at UWGB as an Oneida linguist collaborated with Maria Hinton to record the pronunciation of every single word from the Oneida dictionary. This definitive dictionary of the Oneida language has been digitized into a searchable online database (www.uwgb.edu/oneida/indes.html) that contains more than 34,000 words, including 900 sound files of correct pronunciation of the words. This online dictionary was completed in 2008 after over 20 years of work. Maria Hinton showed great concern that Oneida students were pronouncing the words like English and wanted to ensure they were pronouncing the words correctly. She also recorded Oneida stories collected from her memory and other tribal elders.
Maria Hinton received numerous awards in her life time. She graduated cum laude at the University of Wisconsin-Green Bay, received an Honorary Degree from Mount Scenario College, credits for her Master's Degree, and lifetime certification as a Native Oneida language teacher from the Wisconsin Language and Culture Board. In 2008, Maria received the Founders Association Award for Excellence from her alma mater, University of Wisconsin-Green Bay. At 99 years old, Maria was awarded the Prism Award for her demonstrated extraordinary and innovative approaches to public service in her local community from the Smithsonian's National Museum of the American Indian, October 7, 2009. At this time, Maria was one of three remaining fluent speakers of the Oneida language. She also was recognized for her work on the Oneida Dictionary. In presenting the award, Kevin Gover (Pawnee), NMAI Museum Director said "We were looking for those quiet heroes we all know from our hometowns, who are good hearted and committed to the betterment of people's lives."
According to her granddaughter Jennifer Stevens, "Maria has had her share of trials and tribulations in her life; despite her challenges, she has always strived to face them with courage and determination and meeting them head on".
Maria Hinton had many visions…she aimed high and her achievements were not far from her grasp. The sky is the limit to Maria Hinton, who became a great inspiration to many who know her.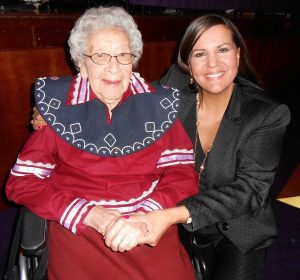 Maria Hinton and Jennifer Stevens