AAUW has a long and distinguished history of advancing educational and professional opportunities for women in the United States and around the globe.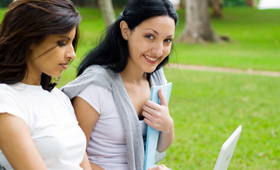 One of the world's largest sources of funding for graduate women, AAUW is providing more than $3.7 million in funding for fellowships and grants to 250 outstanding women and nonprofit organizations in the 2017–18 academic year. Due to the longstanding, generous contributions of AAUW members, a broader community of women continues to gain access to educational and economic opportunities — breaking through barriers so that all women have a fair chance.
Fellowship and grant recipients perform research in a wide range of disciplines and work to improve their schools and communities. Their intellect, dedication, imagination, and effort promise to forge new paths in scholarship, improve the quality of life for all, and tackle the educational and social barriers facing women worldwide.
In addition to the numerous scholarships and grants available through the national AAUW organization (https://www.aauw.org,) AAUW-Green Bay Area Branch awards three scholarships to the recipient and to their educational institution in the amount of $1000 each. We spend a substantial amount of our time fundraising for these scholarships throughout the year.
For more information on the application process, please see our Application Process page for information about how to apply and who is eligible.
For a brief history of the Green Bay Area Branch scholarship see History.