State President 1979-1981
Janice McCarthy, a native of Minneapolis, Minnesota, moved to the Green Bay area 1967, after living in Two Rivers-Manitowoc where she joined that branch of the American Association of University Women (AAUW) in 1962.  She is a life member of AAUW.  Education and equity issues have always been her priorities.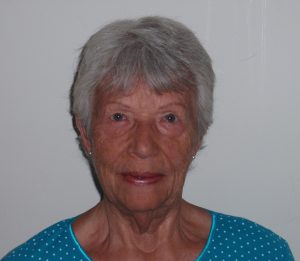 Having graduated with a degree in English from Alverno College in Milwaukee, and then teaching high school English and American history, Janice used her education plus her AAUW experiences to move from one career to another.
After her husband died in 1984, she completed her master's degree and facilitated communications and supervisory management workshops in business and industry throughout Northeast Wisconsin.  (During this same period, 5 or her 7 children were also working on their graduate or undergraduate degrees.  All 7 have since completed their degrees.)
Janice also worked for the Family Violence Center in Green Bay as its Associate Director responsible for all victim services including the supervision of Golden House, the women's shelter.  During this period, she served on the Wisconsin Coalition Against Domestic Violence Education Committee .
As an active member of AAUW, Janice volunteered in the Manitowoc-Two Rivers branch when she joined the organization.   In the Greater Green Bay Area Branch, she served in various capacities including that of Branch President.  In the 1990s, she and Dotty Juengst co-chaired publication of the book, Women of Northeast Wisconsin: Dreamers and Doers.  She also worked with Dotty in the Green Bay Public Schools on their first Title IX Committee.
Janice served on the Wisconsin State Division Board of AAUW as its Community Representative, First Vice President and President from 1979-1981.  Membership of the state organization at that time was 5,200.  As president, she was convener of a state project that culminated in the book, Wisconsin Women: A Gifted Heritage.  She also facilitated workshops at both Wisconsin State Conventions and at the Northeast Central Regional meeting.
In her early years, Janice was active in Girl Scouts and Boy Scouts as well as many other community activities.  She and her husband were co-presidents of the home-school association, and after moving to Green Bay, she served as St Mary of the Angels Parish Council President for several years.
After retiring, Janice became active in the University of Wisconsin-Green Bay's Learning in Retirement program (now Lifelong Learning Institute – LLI) where she began by facilitating several literature courses.  Later, she served as LIR's President, Vice President, Curriculum Chair and the first Volunteer Development Committee Chair.