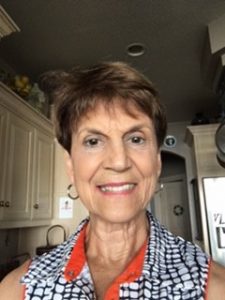 Born in 1945, into a supportive family who had a dairy farm in Lee, Massachusetts, Diane went through grade school and high school there, growing up as the "middle button" of three sisters. Her mother was the oldest of five sisters; and though none had been formally educated beyond high school, they all had high expectations for these young Valenti girls: the first of the grandchildren. Diane did not disappoint them: she went on to Regis College (then all female, but later coed) in Weston, Massachusetts as a Mathematics major: something of a "canary in the coal mine" for the present emphasis on STEM education for women! During her Junior, year she was planning to attend a Fellini Film Festival, when she let a friend convince her to attend a party in Harvard Square instead and by doing so made the decision that would change her life. For it was on that occasion, that she met Herbert Charles Liebmann III, a Harvard law student from Green Bay, Wisconsin. She admits some of the initial attraction was his lovely little sports car; but of course there was a lot more and they continued dating until Diane graduated and went off to teach for a year at a Catholic Mission Boarding School in St. George, British Columbia. When she came home and Bert had graduated from Law School, they were married in the parish church in Lee on June 17, 1967. He immediately whisked her off to Green Bay, where he passed the Wisconsin bar exam and began his legal career.
It certainly isn't easy, being thrust into a new environment, surrounded by new people, far from the familiar landscape that means "home"; but this must have been one of the occasions when Diane remembered her mother's saying, borrowed from the motto of the Christophers, a Christian inspirational group focused on encouraging personal missions for the general good: "If everyone lit just one little candle what a bright world this would be". Because she then proceeded to live her life in Green Bay by lighting her own candle, one that would eventually brighten and energize so many of the area's activities, organizations, groups, boards and committees.
Her first efforts were in the field she knew best: teaching. Responding to the desperate need of a family friend who was superintendent of the Southern Door School system, she agreed to a temporary high school position teaching Physics, Chemistry and General Science from what she remembered of her own college courses! She also taught summer school for first and second graders in Brussels, Wi. but soon found work in her chosen discipline: teaching math in Jr. High in West DePere and for three years at Ashwaubenon High School. Meanwhile, in October of 1971, Herbert Charles Liebmann IV was born, to be followed in July of 1973 by Matthew Joseph Liebmann. Both Bert and Diane believed in being involved in their children's lives; so Diane gave up full time work; and with the example of her parent's involvement in community affairs, and the memory of John Kennedy's presidential challenge to "Ask not what your country can do for you but what you can do for your country," she turned her light on volunteering wherever she saw a need.
When asked what was the most fun she had working with a group, she responded "Next Door Theatre". In this unique organization that provided theatre experiences by and for children, she functioned for 11 years in many different areas. On the "managing" side, she ended up becoming president; and when she switched to the "production" side, she finally assumed the toughest job available – that of production coordinator. Eventually, moving to roles on stage, she was part of the Touring Troupe, performing in area schools.
In addition, she has also been active in the Area Fine Arts committee, served on the Brown County Committee on Equal Opportunities and Housing and the Heritage Hill Pace Setter Committee; was co-Chair for AAUW Book Fair and president of the Lawyers' Wives of Wisconsin. Some of the many boards which have received the benefit of her time and effort are: the UWGB Board of Visitors, Abbot Pennings High School Board of Education, Libertas, Brown County Historical Society, Brown and Door County Scholarships Inc.,
Catholic High School Foundation for Scholarships, the Green Bay Day Nursery (now Encompass) and both the YWCA and the YMCA.
But it was her commitment, support and tireless effort on behalf of the goals and programs of N.E.W. Curative Rehabilitation, Inc. (now Curative Connections) that earned her the nomination as a Dreamer and Doer. She joined in 1999 and served as their vice chair and then chairperson in 2008. All of the staff have been grateful for her constant support of them and their clients; and her help with their Capital Campaign was instrumental in its success, which enabled physical expansion to the west side, as well as, the ability to serve more clients in a badly needed 3rd Dementia specific Adult Day Care Program. "Diane's vast hands-on experience, as well as, her calm and enduring leadership abilities…….have made her an active participant in helping us to set and follow through on our Agency-wide strategic plans and goals. (Our)success is dependent on the assistance that we receive from our community and Diane is truly someone who leads by example. She is always willing to share her talents and encourage others to participate as well…….."
However, she would most like to be remembered for being so largely instrumental in bringing about the consolidation of the three Catholic high schools (Abbot Pennings, St. Joseph Academy and Premontre) into Notre Dame de la Baie Academy, which was finally established in 1990. Appointed to be the convener of the new Board of Education, she assembled the first meeting, served as president for two years, then as secretary and treasurer, as well as, being a member of the finance committee. She was active in the searches for both the board president and the school principal, besides playing a vital role in the 15-million-dollar Capital Campaign. Father Dane Radecki has said: "Diane was willing to do whatever it took to make the school a vital place for students. Our success is due in a large part because of Diane's hard work." In 1995, she received the Founders Award, the highest honor given to a person who has had the most profound impact on total Catholic education in the Green Bay area. She remained an active member of the Corporate Board for Notre Dame Academy.
After reentering the workforce as a part-time Video Coordinator for the State Bar of Wisconsin, in 1990, she began a part–time position as a Club Administrator for University Bank. She held that particular job for six years, but managed to move through a variety of other titles with each change of the bank's name and ownership. When it became Wells Fargo Bank, she became administrative assistant to the president, a post she held until her recent retirement in 2007.
She and Bert are proud of their sons: Brett, now practicing law in Green Bay with his father and Matthew, a member of the anthropology faculty at Harvard. They are equally delighted with their four granddaughters (each son providing two) and eagerly await a new arrival, scheduled for November, 2016.
Finally, Diane declares that her passions are books, nature and music. She feels a deep sense of the need for those who have been given much to give back to those who have received less. And if she had one piece of advice to pass on to other women, she would tell them how important it is to "discover who you are and learn to thrive"…