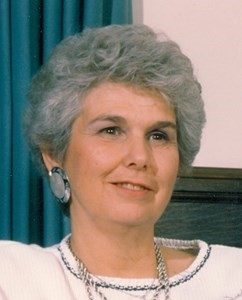 Rosemary was known for working very hard, caring for family and others and sharing her knowledge, experience and passion to make her community a better place.
Rosemary Hinkfuss was born in 1931 in Lima, OH to William and Marie Walsh.  After high school in Lima, Rosemary went to Cardinal Stritch College in Milwaukee, first part-time in the evening, as she was also teaching grade school in Spring Green, WI.  After two years, she attended class full time and earned an education degree from Cardinal Stritch in 1954.  Rosemary met William Hinkfuss, a student at St. Norbert College, when he visited Cardinal Stritch.  After a long distance courtship where many letters were shared, Rosemary and Bill were married in 1957. They moved to Washington D.C., where Bill finished his law degree at Georgetown Law School and Rosemary taught grade school.
They moved to Green Bay, after Bill finished law school. Here they raised their six children in a house next to Hazelwood in Astor Neighborhood.  Rosemary was interested in politics and in 1960, she joined a committee that helped plan a tea at the Northland Hotel for John F. Kennedy's visit to Green Bay.  Rosemary remembers that he shook the hands of all the committee members and said to her, "Thank you, Rosemary, for making this so wonderful"
She became more interested in running for office and was elected to the Green Bay City Council and Brown County Board from 1974-1982. At the time, when, you ran for City Council you were also elected to the County Board.  She needed to attend many evening meetings for these offices.   When Rosemary would go to an evening meeting, she would feed the kids their dinner. Bill would come home and have his dinner, while the kids had their dessert. She had one rule when she was on the City Council, which was always followed: the kitchen would be cleaned up and the kids would have done their homework and would be in bed when she returned from the meeting.
In 1986, she ran for the State Assembly on encouragement of Father Cornell, St. Norbert College, but lost. She ran again in 1988 with Pat McVey as her campaign manager and won. She never expected to win. Rosemary served in the Assembly for six years until 1994.  Elected to local government and state government gave Rosemary many insights about campaigning and governing.  She spent many hours advising candidates. They benefited from her knowledge and experience and many were successful at winning their elections.  In 2014, Rosemary received the Lifetime Achievement Award from the Brown County Democratic Party for her passion in helping candidates.  She felt very honored when she received this recognition.
Rosemary was the first women appointed to the Green Bay Packer Board of Directors.  She remembered when Judge Parins called her and asked if she would like to be on the Board. She said yes, thinking it would be a good thing to say yes to. She served from 1980-2001.  She then became Director Emeritus.
Rosemary's commitment to her community continued through working on many state and local boards and committees.  She served on the Wisconsin Ethics 2000 Committee for the Wisconsin Supreme Court, the Premontre High School Board of Education, the Girl Scouts of America Board of Directors, the YMCA Board of Directors, the Founding Board of Green Bay Montessori and St. Mary of the Angels Parish Council. She also served as president of the Catholic Woman's Club.
In addition to politics, Rosemary also was committed to improving the environment.  Recognizing her work, Rosemary received the 1991 Environmental Decade Award.
Rosemary enjoyed playing bridge locally and in tournaments around the county. She achieved the status of Life Master of the American Contract Bridge League. Rosemary was also an avid reader and an enthusiastic member of two book clubs.  She and Bill belonged to a square dancing club and loved getting dressed in the square dancing attire.
Note:  Some insights of Rosemary's story came from her interview with David and Eileen Littig for the Connecting our Community Project in 2016.