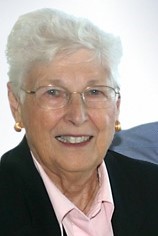 When asked what advice she would give to women, Carol B. Bush said, "Smile every day, do something for someone else and go make a difference," a motto by which she has lived her life.  Taking a prominent role in the Green Bay community for more than 60 years, Carol has been a trailblazer, a leader, creative fundraiser, and "worker bee" for many social, civic, educational and cultural organizations. Her efforts and interests are extensive and diverse and have improved the quality of life in Northeastern Wisconsin.
Carol was born in Milwaukee, Wisconsin.  Her family moved to Green Bay in 1942. While attending East Green Bay High School, she began a lifetime of volunteering when she regularly walked to a local school to read to the children.  In 1948, she graduated with a BA in English from Beloit College, Wisconsin.  For two years, Carol taught at Wayland Academy, a private college preparatory boarding school in Beaver Dam, Wisconsin.
In 1950, she married Robert G. Bush whom she had known since high school and returned to Green Bay.  Together they raised four children, Tracy, Terry, Thomas and Toni.  They now have 17 grandchildren and nine great-grandchildren.
With the support of her family, Carol used her leadership skills, energy, and creative talents to seek solutions for community and organizational issues facing the community.  At a time when women were not visible on boards of directors, Carol became the first woman to serve on the YMCA Board of Directors, acting as secretary and vice-president and on the UWGB Phoenix Fund Board.  She was the first female president of the Curative Workshop (now N.E.W. Curative Rehabilitation).
Carol has keen planning, organizing and recruiting skills.  Here is a small example of the organizations and fundraising activities she has initiated:
Service League.  Carol was an active participant, including serving as president.  Carol spearheaded its annual fundraiser, the Parade of Homes. This event lasted for 50 years, raising money that Service League used to provide basic necessities for children in Brown County.
Heritage Hill Foundation.  While a member of the Heritage Hill Foundation, Carol created the Cotton Club, a membership organization that not only brings financial resources to the Hill, but also encourages more community involvement.
United Hospice Development Council.  Seeing the need to support critical end-of-life services, Carol created the Unity Hospice Development Council.  Its mission is to provide Unity Hospice not only annual donations but also community recognition.
Dudley Birder Chorale.  Carol's love of chorale music led her to become an active Board member, president and an enthusiast of the Dudley Birder Chorale. To promote and encourage more community involvement with the Choral, Carol organized many varied activities.  She conducted an endowment campaign to support the chorale and its performances at St. Norbert College.  In 2003, the Bushes endowed a program to provide an annual vocal music award to encourage vocal music in area high schools.  Carol was also active in promoting the refurbishment of a local church to become the Dudley Birder Hall Theater, providing a venue for the Chorale and other St. Norbert and community theatrical events.
St. Norbert College.  An active member of the St. Norbert Board of Trustees, Carol chaired the fall 2012 kick-off for the $90 million Campaign St. Norbert.  Recognizing the need for an art center, Carol and Bob Bush provided the generous naming gift to make Bush Art Center Galleries a reality.
UWGB Women's Sports.  Described as a "jock" by her grandsons, it is no surprise that Carol has been a long time supporter of UWGB athletics, especially the swim team and the women's basketball team.  Long before the bleachers were full, the Bushes had season tickets and regularly attended the women's basketball games. Carol has sponsored annual "team bonding activities" by inviting the team to her cottage for a day of water fun.  Her leadership in supporting the team was recognized by UWGB when it named the women's basketball home court, "Carol's Court."
When asked what was her greatest passion, Carol, without a hesitation, responded, "Children! Encompass and The Big Event"!  Carol was instrumental in supporting and expanding Encompass Early Education and Care Foundation, a non-profit childcare and educational organization. In keeping with her philosophy, "Let's get the job done and have fun," she founded "The Big Event for Little Kids," an annual fundraising event that provides over 50 activities and hands on exhibits, entertainment and food for kids and their families.  In over 25 years, this event has raised over $1,000,000 for Encompass and the families it services. She also created and chaired the Oktoberfest, another annual and successful Encompass fundraiser. With Bob, she has served as honorary chairman for three successful capital campaigns for Encompass.
These are only the highlights.  Carol has received many awards acknowledging her significant contributions to the improvement and enrichment of life in Brown County, such as:  Girl Scout Esther Bie Award for Community Service, United Way DeTocqueville Award, Saint Norbert College President's Medal, Unity Hospice Guardian Angel, UW-Green Bay Chancellor's Award, YMCA Christian Leadership, WPS-Golden Rule Award-Cornerstone Business Services Volunteer Leadership, the Key to the City of Green Bay and the Seal of the City of Green Bay.
When asked who influenced her life the most, Carol said her parents and her good friend, Lucyanna Hitch.  Her parents instilled strong values.  They were loving people who modeled a loving marriage and family.  They were very interested in the welfare of their community and loyal and loving to family and friends.  Lucyanna Hitch (also a Dreamer and Doer) was loving, smart and worked constantly to improve her community.  She too was loyal to her friends and was known to visit hospitalized friends daily.  She was truly an inspiration.
Carol believes all can contribute to their community by deeds or donation.  Her enthusiasm, positive attitude, high standards and commitment to others are infectious.  Because of her dedication and the fact that she never asked for more than what she was willing to give in time and money herself, she inspired many others.  It was often said, "It is difficult to say no to Carol Bush." Because Carol cared and could galvanize others to join in her activities, many children and adults receive the care they needed and deserved.  In her eighties, Carol, an active volunteer, continues to inspire others and to serve as a role model.  She is still smiling while she is "doing something for someone else every day."