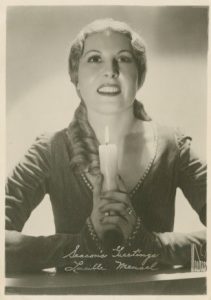 Lucille Meusel was a native of Green Bay who went on to fame as an opera singer.  She was born March 18, 1901 and died December 8, 1985.
She won wide acclaim as a member of the Chicago Civic Opera.
One newspaper review headline read, "Lucille Meusel Plucks Hearts in 'La Traviata- October 11, 1938" by Edward Barry.  He wrote, "Lucille Meusel and Carlo Peroni, playing Violetta and conductor, respectively, were responsible for most of the trouble…. "
Lucille is reported to have been an inspiration to scores of artists, and her career no doubt, influenced theirs.  While still studying, she entered a contest for young vocalists and won First Place and a grand piano!  In another year, she had won a scholarship with the famous teacher Herbert Witherspoon, and the year after that, while still in her twenties, the papers were featuring her pictures and the stories of her debut, in a role in "Tannhauser" with the famous Chicago Civic Opera Company. An article dated December 2, 1936 by Elmyra Ulmer states, "Miss Meusel's picture hangs in the studio of the Academy of the Sisters of Saint Joseph in Green Bay, Wisconsin where she began her singing lessons. The nuns are proud of this girl who rose to the heights of opera and has kept the firm practice of her faith.
After the Chicago Civic Opera, Lucille sang for two years in Europe and then joined the Royal Opera Company of Liege, Belgium and sang leads in most of the capitols of Europe.  She later returned to Chicago.  As reported in the Post Crescent newspaper of Appleton in March 1948, Lucille sang the lead in a program entitled, "Songs of Jenny Lind in Costume" at the Lawrence College Conservatory.  The program was sponsored by Phi Mu Alpha-Simfonia, a men's music fraternity, for the benefit of their scholarship fund. She offered this program to numerous nonprofit groups to be used as a fundraiser.
Later in life, she returned to Green Bay to care for her parents and became a voice teacher who nurtured many budding Green Bay musical students.