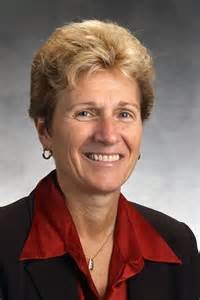 "Failures are born of philosophies."
This quote from former University of Wisconsin-Green Bay Men's Basketball Coach Dick Bennett has been Carol Hammerle's mantra throughout her 32-year collegiate sports career.
It's safe to assume that Hammerle is a woman of action.
"Movement is longevity," Hammerle says, reflecting a sentiment that has resurfaced in various ways throughout her life and storied coaching career, which includes a 25-year tenure as the University of Wisconsin-Green Bay's first women's basketball coach from 1973 to 1998.
Hammerle's achievements as UWGB women's basketball coach are impressive: she enjoyed 21 consecutive winning seasons, secured nine conference titles, was awarded Conference Coach of the Year four times and became a Phoenix Hall of Fame inductee in 2006.
Before arriving in Green Bay, Hammerle graduated from Northern Michigan University (NMU) in 1970 with a Bachelor of Science degree in physical education. Afterward she took a teaching job at the high school in her home town of Lee, Massachusetts. She returned to NMU, two years later, as a part-time lecturer to complete her master's degree in education.
Hammerle completed her master's and applied for a job at UWGB which was billed as two-thirds physical education instructor and one-third intramural coordinator, intercollegiate athletics and cheerleading advisor. She later added women's basketball coach to the list.
When Hammerle held her first basketball practice, 12 women showed up. Hammerle was prepared to practice drills, only to find that just three of the women had ever played basketball. They lost their first game against Ripon College in overtime and struggled for the rest of the season, but that did not deter Hammerle.
The next year, the team played in the Wisconsin Women's Intercollegiate Athletic Conference and competed against other UW schools. Carol and a team of supporters raised $3,000 for scholarships by hosting a softball tournament. The program finished with 14 wins, 9 losses and has never had a losing season since.
Hammerle desired equal opportunities for female athletes to compete. She fought for this by meeting regularly with university administration to get better, if not yet equal, opportunities for the women's team. She wanted prime practice time slots and gym space. She wanted female players to have full tuition scholarships just as the men had. Hammerle secured these things. Because Hammerle refused to deny her dreams, hundreds of women and girls were able to pursue theirs.
Over the next 25 years Hammerle continued to establish a winning basketball tradition at UWGB, bringing the team to champions in four different conferences and making two NCAA D-1 tournament appearances.
Beyond the basketball court, Hammerle was a mentor to her players and instilled in them principles of confidence, goal setting, strong work ethic and loyalty – the very principals that had been instilled in her as a young woman.
"My parents instilled in me the importance of working hard to achieve your goals in life," she says. "Also, the importance of giving and helping others to be better."
Former player and assistant coach Sue Bodilly says, "Working for Carol was a true privilege and gave me the opportunity to see a true visionary at work. Carol lives and breathes to improve the lives of girls and women through whatever means is necessary — sports, higher education, one-on-one discussions. She embraces life and has touched thousands in her wake."
Hammerle closed out her career as head women's basketball coach at Northern Illinois University where she worked from 1998 until she retired in 2005. She now resides in Green Valley, Arizona where she enjoys playing golf and teaching pickleball classes for Green Valley Recreation. She also continues to jog, lift weights, read, grow roses and plays the saxophone, when she finds the time.
Hammerle's advice to other women stays true to her belief that movement in any direction is better than no movement at all. "Believe in yourself, set goals and work to achieve," Hammerle says. "If you fail, fail forward and keep trying."