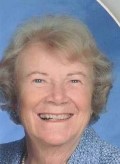 Elizabeth "Betsy" Hendrickson, was born in Rhinelander to the late Andrew and Ethel (Maidlow) Brann. Betsy went on to receive a bachelor's degree in chemistry at The University of Wisconsin – Madison.
On June 14, 1947, after finishing graduate school at Cornell University in Ithaca, N.Y., Betsy married Philip Hendrickson.  Together, they moved to Green Bay in 1950, where they raised a family of three children. Her many community credits include her service on the boards of the YWCA, Brown County Unified Board, Children's Service Society, Green Bay Day Nursery (now Encompass Early Education and Care, Inc.), Church Women United board, United Way, Green Bay Symphony Guild, Green Bay Service League, Howe School, American Cancer Society, past president of P.E.O., Congressional Committee for Service Academy Selections, Garrett Evangelical Theological Seminary and many roles with the United Methodist Church.
Education always was in the forefront, which led to strong ties with the University of Wisconsin campuses at Green Bay and Madison and St. Norbert College. At UWGB she served on the Board of Visitors, Chancellor's Board of Trustees and in 1987 established the Philip J. and Elizabeth B. Hendrickson Professorship for Business. In addition, Betsy pursued a master's degree in human services at the UWGB in 1979.  Betsy was a member of the Board of Directors at Heritage Hill State Park. Her contributions to the park continued beyond her service on the board.  Betsy and Lucyanna Hitch led a capital campaign to build the Education Center, which bears their names, at Heritage Hill State Park.
During her career, Betsy received many honors in recognition of her volunteer work. The Green Bay Branch of AAUW awarded Betsy the Dreamers and Doers Award in 2012 for her support of Children's Promise.  Other awards include the Fort Howard Paper Foundation Humanitarian Award, the UWGB Chancellor's Award, YWCA Women of Vision Award and the UWGB Distinguished Alumni Award and the Outstanding Lifetime Philanthropy Award from the Association of Fundraising Professionals, Northeast Wisconsin chapter. In 1998, an endowed scholarship was established at Bellin School of Nursing. When their daughter, Mary Heather Johnson, died of melanoma, the family established an annual skin cancer screening day in her memory. The MHJ Foundation, named in her memory funded The American Cancer Society Mary Hendrickson Johnson Melanoma Professorship.
Betsy died a resident of Allouez-Green Bay, WI, at the age of 89.  Betsy once said, "These diverse causes have attracted and held my interest over the years because I believe that we can all make a difference in our community and that we all have a responsibility to try."
Watch Betsy's video.