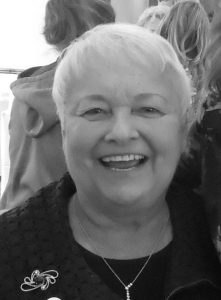 Pat might have been petite in stature but she was a mighty force who used her talents to break down barriers that women continue to face. She was a strong leader in a diverse group of Green Bay area organizations where her activism was put to use improving society. In 1994, she was on the Green Bay Area AAUW committee that produced the book, Women of Northeast Wisconsin: Dreamers and Doers.  The book celebrates the lives of significant historical and contemporary women. Then in 2006, the Green Bay Area AAUW's annual Book Fair ended after more than 40 years. The branch was looking for a new event to support and Pat had the best idea. Pat suggested establishing a Dreamers and Doers Award celebrating current Brown County women and their accomplishments. Those on her award committees were inspired by her commitment to remember and document the work of female leaders in the community. Through 2015, 60 women were nominated and recognized; 10 received the Dreamers & Doers award. These nominees and award winner are included in the second edition of Women of Northeast Wisconsin: Dreamers and Doers. Pat was present at the initial meetings for updating the book before she became too ill to continue.
Patricia "Pat" M. Hinckley was born in Barberton, OH to Harold and Margaret Woods. In 1968, she graduated from Mundelein College in Chicago with a BA in History and went on to get a Master's degree in Urban Health Education from Loyola University in 1970. After college, she taught elementary school for two years in the inner city of Chicago during the time of the Martin Luther King assassination. She married James (Jim) Hinckley during a blizzard in 1968 and they had three children Peter, Karen and Brant. After her family relocated to the Green Bay area, she attended the University of Wisconsin-Green Bay (UWGB) and obtained her Wisconsin Certification to teach Social Studies for grades 7-12.
While teaching Social Studies at Ashwaubenon High School, Pat got approval for a women's studies class, the first of its kind at the time. She designed and wrote the curriculum for it. It was a combination of women's history, women's studies and global issues facing women and girls. It is still the only such high school course in the area. One requirement of the class was that the students had to present information or profile women pioneers, inventors, artists, scientists, etc. to elementary and middle school students through age appropriate activities. Some actually portrayed the women they were highlighting. Pat also put together short who's who info for the school's daily announcements during Women's History Month. In 2004, her Social Studies team at Ashwaubenon High School received the Golden Apple Award and Pat was chosen to be the Ashwaubenon High School teacher of the year. She was also the gifted and talented coordinator for the school and monitored and trained student teachers.
Pat was one of the original founders and third president of NEWTAG (Northeast WI Talented and Gifted).  This group advocated for opportunities for gifted and talented students in the Green Bay area public school districts. The organization provided summer enrichment opportunities at UW-Green Bay and scholarships for area students for statewide enrichment programs.  Much of what the group advocated for was adopted and is the cornerstone of enrichment programming for the Green Bay School District. This group also found the first director of the Green Bay Boy Choir; as part of this program.
Along with her husband Jim, Pat was a longtime supporter of her alma mater the University of Wisconsin-Green Bay. She served two years on the UWGB Founders' Board where she was involved with mentoring student teachers, arranging speakers for campus events, and serving on athletic department committees. She was an avid fan and benefactor of all athletic teams, especially Women's Basketball at UWGB. Over the years, Pat worked cooperatively with UWGB students and staff to support various programs such as, Women's History Month programs and activities, equity activities and voter registration and education both on and off campus. As a member of the Green Bay Area AAUW branch, Pat mentored several UWGB students on women's issues through the AAUW Get Out the Vote Project. She also served as secretary of the UWGB Lifelong Learning Institute's Communications committee. In 2012, Pat and Jim were awarded the Chancellors Award from UWGB. This is the highest community honor rewarding contributions above and beyond monetary contributions. She was concerned that it being a "couple" award might dilute its importance. Not so said Jim, "she had many reasons to merit the award herself". This certainly speaks to Pat's selflessness. Along with Jim, she provided endowed scholarships at UWGB, in addition to Ashwaubenon High School and Mundelein College.
This isn't the only time that Pat would be recognized for her hard work and dedication to a cause. In 1966, Pat was a "Mud Angel" after the flood in Florence, Italy. Up to her ankles in and eventually covered in mud, she helped rescue rare books from the library, having bussed up from school in Rome. Her efforts along with other Mud Angels was recognized during the 50th anniversary commemoration in 2016.
Pat gave of her time and leadership talents to a number of community organizations, too. As a member of the Green Bay Area AAUW branch, Pat served as President, the newsletter editor, Dreamers & Doers chair and chaired a variety of committees such as Membership, Communications, Program, Legislative committee, Book Fair and Area Interest. Pat also served on the AAUW State board as Membership chair and was District Coordinator for two terms. Prior to her passing, Pat was featured in an article in The Business News recognizing her contributions to the community:
There are few women who have the respect of their peers more than Pat. The list of her accomplishments and contributions continues to grow during retirement when many would sit back and say "my work is done" … She strives to make others aware of inequality in the workforce and education, consistently enlisting the help of others to bring formal programs to the UWGB campus and the community at large. She is the driving force behind much of the work of the local AAUW chapter.
 The League of Women Voters both at the state and local level benefited from Pat's involvement. At the state level, she served on the Civil Liberties and Redistricting committees and at the local level, she was secretary of the board for two terms and chaired the Civil Liberties and Voter Services committees. She was a strong proponent of voter's rights. This passion lead her to become a member of the Brown County Migration Advocacy Network where she was on its voter education/registration committee. In retirement, Pat volunteered at the Literacy Council, teaching English as a Second Language. Through membership in these organizations, Pat worked very hard advocating for marital property reform, participated in ERA rallies, promoted Science, Technology, Engineering and Math careers for women and girls, advocated for the implementation of Title IX and advocated for equal pay. Pat was also a lifelong member of the Girl Scouts and served two terms on the Lac Baie Council Board as membership representative. In addition, she served as a troop leader for ten years and as a camp counselor.
Pat inspired selflessness within her family and others in both her public and private lives, never seeking recognition, while working to better the lives of others. She is the true definition of a Dreamer and Doer.