Tr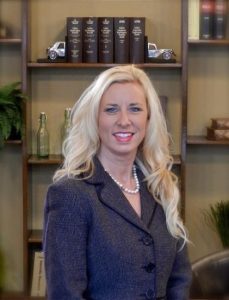 icia Nell has been fascinated with law her entire life, becoming enthralled by crime stories, movies and television shows, as a child.
"I loved watching law cases that involved lawyers and I had a passion for arguing," Nell said. "My mother stated often, that she thought that I was either going to be a 'serial killer or an attorney.'" Luckily, Nell found her life's calling in the practice of law. She opened her own law firm, Tricia Nell Law Office, S.C., in 2013 with a concentration on personal injury and wrongful death, including uninsured motorists' claims, as well as, social media, privacy law and business.
Nell says she was greatly influenced by her grandmother, Elizabeth, who was an English teacher at Dodgeland High School in Juneau and was the school's mock trial, forensics and debate coach. "My grandmother taught me the value of education, compassion, hard work and she made me feel loved always," Nell said. "I still meet attorneys, who approach me, to talk about how my grandmother inspired their dream to become the attorneys they are today, mostly woman."
Nell was born in 1971 and graduated from Ripon High School in 1990. A 1997 St. Norbert College graduate, Nell completed her law degree at Michigan State University College of Law in 2000. During her third year of law school, Nell was hired by St. Clair County Prosecutor's Office, where she conducted trials and courtroom motions.
"I wanted the experience in the courtroom, so bad, I could taste it," Nell said. "I would go to bed at 2 in the morning, after finishing my work shift, having classes all day and get back up at 5 a.m. to drive two and half hours to St. Clair, two days a week to get that experience."
From 2000 to 2004, Nell was an associate at her father's law firm, Nell & Associates, S.C. in De Pere. From 2004 to 2008, she was a partner at the firm where she oversaw all litigation in both state and federal courts. In 2001, Nell served as a Special Prosecutor for the Brown County District Attorney's Office, handling both misdemeanor and felony cases. She also presented seminars on numerous employment topics for Lorman Educational Institute, during her career at N&A.
Before opening her own firm, Nell was a shareholder in the litigation department at Liebmann, Conway, Olejniczak & Jerry, S.C. Here her practice focused on personal injury, wrongful death and high profile criminal defense cases, as well as, complex business, employment and healthcare litigation. She appeared as a legal analyst for WBAY Channel 2 News covering various legal topics and high profile cases including the Steven Avery and Brenden Dassey criminal trials.
Nell has been recognized for her achievements in the courtroom. She was nominated for the 2013 Women in the Law award presented by the Wisconsin Law Journal, which recognizes women who have accomplished a high level of success in the legal industry. She was the Brown County Bar President in 2013 and received the Rising Star Award from the Super Lawyers in 2009.
Outside of the courtroom, Nell finds fulfillment by working with teens and young adults, particularly young women involved with local mock trial programs. She coached the Green Bay East High School team for eight years and coached the St. Norbert College team with Judge Marc Hammer. She created a program called "Dress the Girls" which collects and distributes suits, shoes and accessories to underprivileged female students who participate in mock trial.
"Throughout my career, as an attorney, my goal was to give back to young girls and inspire them to realize, that they could go to college and have a career despite their economic or single-family situation growing up," said Nell, who lived with her grandparents in a single-parent household, as a child.
Nell has served on the board of directors for the Boys & Girls Club of Green Bay, The United Way, The Federal Defenders Services of Wisconsin and the Executive Committee of the Brown County Bar Association. In 2016, Nell closed her physical office, but is still practicing law through a virtual office with a primary focus on personal injury.
"The key is to remember that there may be a path you think was chosen for you, but you can always take a detour and still fulfill the dreams and goals you set out to help people in your career," she said.