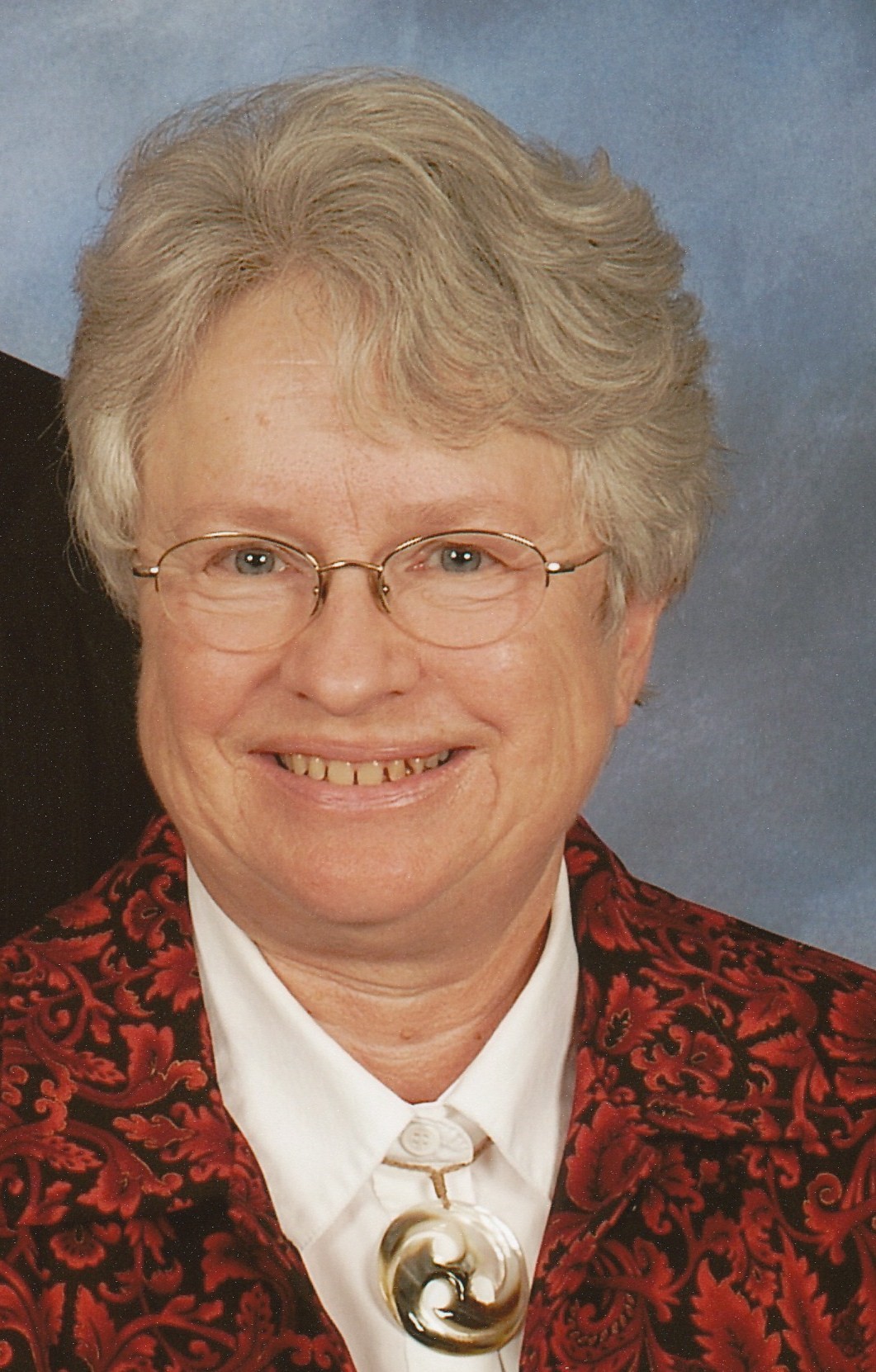 The accomplishments of Dorothy Marian Johnson Juengst (known to all as Dotty) are proof that quiet persistence can accomplish more than loud actions.  A petite woman with a soft voice and an unassuming manner, Dotty Juengst has spearheaded new projects and guided many committees with a firm and patient hand.   Intelligent, thoughtful, creative, patient, kind and hard working, Dotty is a gentle dynamo who has successfully 1) improved gender equity and diversity in education, 2) advanced women's equality, 3) fostered greater participation in the political process and 4) supported local conservation.
Dotty and her twin sister, Constance Evelyn Johnson (now: Hondl) were born in Minneapolis, Minnesota to Vera and Gustave Johnson. Dotty's mother had three sisters and twins were named after each of the sisters.  Her mother was a strong woman who, with her sister, became the sole support of their family during the depression when her brothers could not find jobs.  Dotty's mother met her father at the Lutheran church.  Dotty's father, an electrical engineer, worked his entire career for the utility company in Minneapolis.
Dotty, Connie and their older sister, Lois spent their youth in the Minneapolis area.  Dotty and Connie attended Uppsala College in East Orange, New Jersey.  She chose it, because it was a small Lutheran school that gave her the opportunity to live on the East coast.  Originally, Dotty planned a major in Sociology, but in her junior year she took Introduction to Economics.  This changed her life.  The professor was so excellent and made economics so interesting and real that she became an Economics major.  She encountered her first experience in gender discrimination when she took a required accounting course. The accounting professor wanted no women in accounting.  Rather than take the second semester accounting, Dotty convinced her advisor that business statistics would be a better course for her.  Ironically this better prepared her for the work she ultimately pursued.
Dotty met her husband Fred Juengst shortly after she started college.  Fred was a sophomore and confessed he wanted to meet these twins to see just how much alike they were.  A conversation with Dotty lead to a date and eventually marriage.
After graduating in 1964 with a degree in economics, Dotty's first job was as a research assistant with the Balance of Payments Division at the Federal Reserve Bank in New York City.  Her first boss was the only female department head at the bank.  Dotty's values and experience lead to an interest in feminism and equality, controversial issues of the period.
On June 18. 1966, Dotty and Fred were married at Diamond Lake Lutheran Church in Minneapolis, Minnesota.  Having graduated a year before Dotty, Fred was working towards a master in microbiology at the University of Connecticut.  They returned to the University of Connecticut where Dotty worked as a research associate at the University's Center for Urban Economics.  She used computer models developed by NASA to conduct research on the impact of the defense spending in the Connecticut's economy.
The couple returned to Minneapolis in 1967 for Fred to pursue a PhD at the University of Minnesota.  Dotty was a Research Fellow at the University's Graduate Research Center studying the cost analysis of instruction. This opened her eyes to the inequality that existed in universities.  She had access to pay scales and learned that men without a college degree were receiving higher pay than women with degrees.  Dotty's strong intellect, analytical skills and hard work proved very valuable to the university.
In 1972 – 1974, Fred pursued post doctorate work at Cornell University in Ithaca, New York.  Having been highly recommended by the Dean of the Minnesota Graduate School to the Dean at Cornell, Dotty continued her research in cost analysis and institutional forecasting as a research fellow for the Institutional Information Management Systems and Analysis at Cornell.
In 1974, Dotty and Fred moved to Lansing, Michigan.  Dotty was seven months pregnant with their first child, Deborah.  Two years later their son Derrick was born.  Raising a young family, Dotty did not work outside the home.  She turned her attention to volunteer work.  She joined the League of Women Voters and helped to evaluate the implementation of Title IX programs in the local schools.  She also ran unsuccessfully for the County Board of Commissioners.  She now understood schools' reluctance to implement Title IX and the problems associated with running for political office.
After the completion of his postgraduate work, Fred accepted a position in Green Bay in 1979.  One of the first things Dotty did was to call each of the local school districts, and ask who was their Title IX coordinator, a requirement under the statute.  Few schools knew what she was talking about.  No schools had one.  Dotty soon found the local League of Women Voters and led the Sex Equity Community Task Force (consisting of members from League, the YWCA, Women's Service Center and AAUW).  The Task Force completed surveys of students, studied the issues presented and provided input to the Green Bay School District. This resulted in the Green Bay School District requesting an assessment by Wisconsin's Department of Public Instruction to review all aspects of the Title IX implementation.  The DPI assessment led to many changes in the school district's programs to correct gender inequality in the schools. The Task Force's accomplishments were recognized throughout the state.  Dotty was asked to serve as a community consultant for the Wisconsin Department of Public Education on gender equity.  She taught workshops on the formation and work of similar task forces throughout the state.
Dotty's work with the schools was only beginning.  In 1995, she was elected to the Green Bay Area Public Schools' Board, a position she held for 12 years.  She was Vice-President of the Board from 1999-2002 and served on numerous committees for the Green Bay Board.
Dotty continued her involvement with League of Women Voters (LWV) and served as President of the local league from 1981- 1983 and was elected the state president from 1987-1989. She remains an active member of the local LWV.
Dotty also was active in local branch of the American Association of University Women (AAUW).  She served as president of the local branch from 1994-1996. One of her major contributions was serving as co-chair of the Women's History Project (1990-1996).  This project resulted in the publication of the book, Women of Northeast Wisconsin:  Dreamers and Doers.  Other projects advancing girls and women included:  Project Director for the Sister to Sister Summit, a program bringing adolescent girls together to discuss avenues for achievement and creation of the video, What's the Difference: Women's Issues from the 1950's to 1980's, a video compilation of film and still images from the Neville Public Museum archives.
Another example of Dotty's leadership is when Wisconsin Public Television announced plans to cease production services in northeastern Wisconsin.  Dotty joined a task force to keep such production facilities in this area.  Through a rare combination of calm reasoning, strategic thinking, and passion for a cause, Dotty lead others to create Educational Television Productions of Northeast Wisconsin, insuring quality programming would continue to be created here.   She served as Vice-President from 2003-2007 when she became President of the organization. As of this writing, she continues to serve as President.
The environment, particularly water quality, is another of Dotty's passions.  From 1991-1997, Dotty was an Associate Lecturer with the University of Wisconsin Extension in Green Bay.  As the Northeast Wisconsin Urban Water Educator, Dotty worked to create community interest in water quality and water quality monitoring.  She presented many workshops on matters as preventing erosion during construction and other related non-point source pollution issues.  She served on the State of Wisconsin's Department of Natural Resources' Fox River Citizens Advisory Committee and worked on the Fox River Remedial Plan.
Change often involves conflict. Unless it can be addressed through meaningful dialogue, it makes it difficult to accomplish anything.  Thus, it is not surprising that Dotty is a strong advocate for the Mediation Center of Greater Green Bay.  The Center seeks to resolve conflict among people in the Greater Green Bay community by providing them a process, namely mediation.  Since 1998, she has helped to organize and lead the agency.
Dotty found the time to serve many other nonprofit organizations and clubs as a volunteer, organizer and leader.  She has always been and continues to be very active in her church, Grace Lutheran.  Her pride in her Swedish heritage is reflected in her commitment to the Vasa Order of America, where once again she served as Chairperson of the local lodge. A cursory review of the many, many organizations Dotty has helped shows her commitment to our community, women, girls and those less fortunate.  It shows clearly that a very large heart has driven her small stature.
In an article published in the December 1987 magazine, Wisconsin Woman, the author, Leah Abrahams quotes Dotty, "I have always volunteered, because I decided that was the best way to affect the system….My philosophy is that you are more than just yourself and your individual needs.  You need to project yourself into the community at large.  I think I have been very fortunate…I might have been struggling economically and then I wouldn't have the time to devote to this kind of activity.  I have been successful doing what I most enjoy: implementing change in the community."  Although Dotty has reduced some of her volunteer commitments, she continues to quietly, gently, and persistently push all of us to keep doing the work that is yet to be done to make this community a better place for all.