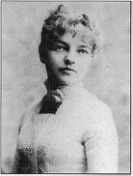 Deborah Martin was looking forward to the 300th birthday of the 1634 landing of Jean Nicolet. who went ashore near Green Bay to meet the Indians. She was seventy-seven and active until the end. She had been the head librarian of the Kellogg Public Library for thirty years. She was also one of the founders of the Neville Public Museum, the instigator of preserving local historical buildings and opening them to the public, the inspiration of "The Spirit of the Northwest", Sidney Bedore's statuary group erected on the Brown County Court House lawn, the author of The History of Brown County and the first woman curator of the State Historical Society of Wisconsin.
Born in 1854 to Morgan L. Martin and his wife, Elizabeth Smith Martin, niece of famed Doctor William Beaumont, Deborah lived her entire life at Hazelwood, the home built in the late 1830's. Both the Martin and Smith families had long New England histories, the Smiths having come from England with Roger Williams. The Martin home was the meeting place for the important travelers and personages of the ay. Many came to visit with Deborah's father, one of Wisconsin's leading businessmen and politicians. To this scene Deborah was a keen observer and participant making her an eyewitness to Wisconsin and Brown County history.
Deborah Martin's numerous historical articles and pamphlets and other writings never brought her much money. It was believed that she was paid $150 for her monumental History of Brown County, published in 1913. It is known that her salary was $40 per month when she was appointed acting librarian in 1900.
During her 30-year tenure as head of the Kellogg Public Library, she believed that a library should hold not only books, but also other objects of educational and cultural interest. She was instrumental in acquiring, through local donors, a collection of oriental rugs and books for the public to study, a collection of paintings on American history by the celebrated artist, Howard Pyle, and other art objects to enrich the public library.
In an interview with Miss Sybil Schuette, who became the head librarian after Deborah Martin's death, Miss Schuette said "The keynote to Miss Martin's success lay more than a little in her interest in people. She was naturally very kind, interested in everything and everybody. She was gifted with a keen sense of humor, which earned her through many a difficult situation."
One contemporary wrote upon her death, "We have lost an historian who made us sense our companionship with the past, our kinship with those who have departed. Still more, we have lost a great-hearted woman, one of an elder aristocracy which did its work quietly and well, without profit, without glory, with little appreciation… save that of a few associates and friends…the true aristocracy, not with something to sell, but something to give: not with a quota, but with an ideal; not with a vibrating column of air from the tin horn of a press agent, but with an enduring accomplishment and an example in nobility and integrity."
Probably the best description of Deborah Martin was written by her library assistant and successor, Sybil Schuette, "She saw things in a broad way and had a deep abiding interest in all things. To us she was ageless, a contemporary of whomever she was with. There will never be another like her."
Watch this video for Deborah's story.