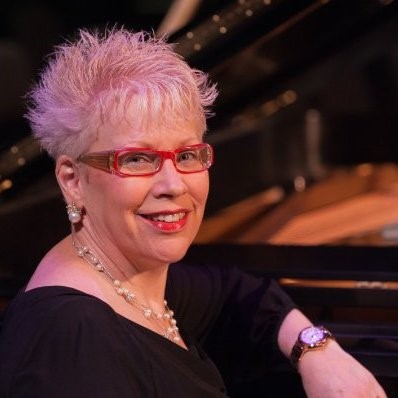 Lucinda Roberts styled hair, worked as a secretary, substitute teacher, day care provider, piano consultant for a local music store and private tutor. She has played piano for a big city comedy club and performed as part of a musical duo. Lucinda Roberts is no quitter. Each job she takes on becomes the job she must see to fruition. Shaped by a childhood marred by her parents' divorce and her father's abandonment, Roberts learned early that she prefers to "stick to stuff," she said.
That drive is likely what is behind the success of Doctors in Recital, a community fundraising idea she pitched to the Brown County Medical Society Alliance nearly 10 years ago. The event features physicians with a passion for music who perform in what have become annual concerts. Roberts, as executive producer for the show, helps the physicians and other performers with the music selections and rehearsals as well as accompaniment during the show. She writes the program and is involved in all aspects of planning and fundraising. Roberts had learned about the event during her studies at the William Steinway University in New York City that she attended in 2006 and 2007. The first Doctors in Recital, held at Fort Howard Hall in 2007, had just 10 performances and 150 guests. The event has grown in scope and popularity – 1,400 people attended the last show – and has raised $250,000 to benefit a wide spectrum of programs for children in the community.
In nominating Roberts for inclusion in the American Association of University Women's list of Dreamers and Doers, JoAnn Hennigan called Roberts a "musical visionary" in Brown County. Hennigan praised Roberts for her zeal for music and her spirit to give back to the community. "She is a woman who has shared her unique talents, demonstrated her ability to achieve goals, and made this community better through hard work and determination."
Roberts has created pedagogical opportunities for local students, such as Masters Classes with guest pianists and composers like Jean Phillipe Coulliard and Dejan Lazie. She is a woman of strong faith who felt nudged by God to jump into the Doctors in Recital program with both feet. She knew it would be a good thing in a community with four hospitals competing, she said, to find a way for these medical professionals to work in harmony in a way they would not normally collaborate. It has been exciting to see how the doctors have grown musically and as individuals. "When they come in the doors, all pretenses are gone. It has done some really wonderful healing in the community," Roberts said.
A native of the Akron-Cleveland area, Roberts became a licensed cosmetologist after high school. She owned her own salon for 11 years before going back to college for a bachelor's degree in music from North Park University in Chicago. The emphasis of her studies was in jazz piano. She went on to earn a master's degree in music business at the non-accredited William Steinway University in New York City and later worked as a piano consultant at Heid Music in Green Bay for eight years.
Her current position, one she has held for the past four years, is fine arts program coordinator for Green Bay Area School District at East High School. The fine arts initiative was developed to serve students in preschool through high school offering programs to help children develop musical skills. The Fine Arts Institute, which three years ago added visual arts to its repertoire, is five years old. The program serves the underserved, Roberts said, as it identifies students with talent and inspires them to work hard to develop their skills. It recognizes the importance of providing a customized education even during difficult economic times. She has seen the program change lives in Green Bay, a community with a higher poverty rate than most people realize. Sixty percent of students at the high school qualify for free or reduced rates for lunches.
The Fine Arts Institute receives much support from the community and especially the strong musicians who were educated at East High School in the past, Roberts said. "Music was falling by the wayside. They raised money. The community met with principals to dream about what could be… The community support is a lovely partnership," Roberts said.
At the Fine Arts Institute students are exposed to high level teachers. Second through fifth graders receive violin lessons. Band instruments are added in sixth grade. The program provides field trips to Milwaukee and Chicago for opportunities for children to visit museums and attend other events. "It is very exciting to be part of this and inspire students. If we can start to change lives, that's a great thing," Roberts said.
Roberts' work in Doctors in Recital and her work in the schools along with her composing and arranging for Church Praise, Worship Band & Choir, her solo and group performances, her tutoring and volunteer efforts for local events and fundraisers all highlight her commitment to music and her community. Hennigan called Roberts a treasure to the musical community of Northeast Wisconsin.