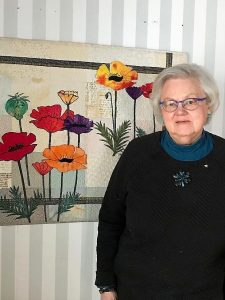 Kathleen Erbeck was born in 1942 in Wausau, Wisconsin in Marathon County. She is the oldest in her family of 12 children with seven brothers and four sisters. She graduated from Marathon High School and then went on to the University of Wisconsin-Stout and received a degree in Home Economics.
When explaining her interest in art, Kathleen said, "I was inspired by my grandmother who was artistic and a quilter. She had beautiful things in her home. My mother was artistic too and she encouraged creativity. My favorite class in school was art and influenced why I majored in home economics when I went to college."
Going to college was a major decision for Kathleen.  Her parents did not have college educations, were not wealthy and were raising 12 children. Her parents discouraged her from going to college because they thought she would probably get married. She was fortunate to find encouragement from a teacher, who told her, "I went to college all by myself! You can do this all by yourself.  You don't need their [parents] permission!"
Kathleen began saving her money from babysitting and worked as a waitress every summer to pay for her college education.  As the oldest child, Kathleen served as a role model for seven of her siblings that followed in her footsteps and earned college degrees.
In 1964, Kathleen came to the Green Bay area for a teaching job in West De Pere and taught Home Economics for five years. She married Jay Erbeck on February 10, 1968. She was married on a Saturday, and Jay left on the next Monday for California and then was sent to Viet Nam. He was in the Marines for 13 months in Viet Nam and served in the Marines for a total of four years.  In November 1969, he returned to Green Bay and began working for Nicolet Paper. After three years, Jay used his GI Bill to be trained as a machinist at Packer Manufacturing where he worked for four years completing his apprenticeship.  In 1976, he was hired by Fort Howard Paper Company as a machinist and millwright and worked there for 27 years until he left in 2010.  Kathleen and Jay have two sons Aaron and Lincoln a daughter-in-law and two grandchildren all living in Seattle.