Joyce Beck Mc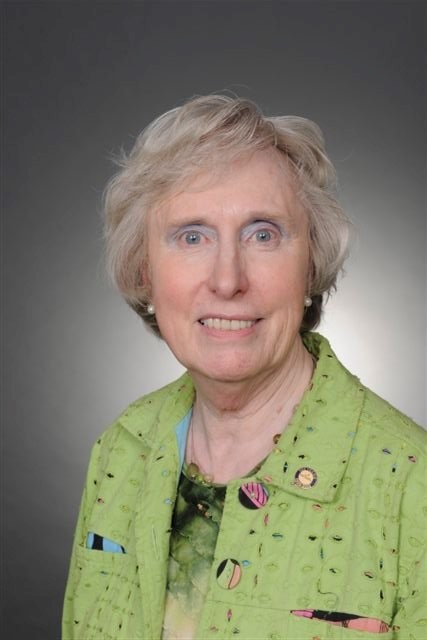 Collum was born in 1940 to Elvin and Ruby Martinson Beck in Galesburg, IL.   She spent her childhood living in farm country within 30 miles of her birthplace.  Her father used his farming skills to work for others while her mother was at home when her three sisters were small and then worked in a blue jean factory and at a psychiatric hospital.   Neither parent had finished high school.  Joyce attended one-room schools for two years and graduated from Spoon River Valley High School in Fairview, IL as salutatorian of her class of 42 students.   Teachers from first grade told Joyce and her parents that she should go to college.  Joyce's dream was to be a nurse like her Aunt Bernadine, but a scholarship to Illinois State to be a teacher was offered and she eagerly accepted it.   While in college, studying and working in a hospital, a new nursing offering at Madison General Hospital where she could transfer her college courses and become a nurse was presented to her.  A patient that she cared for arranged for her tuition to be paid at Madison General ($120 per quarter).   She graduated as a nurse in 1963.  She graduated from University of Wisconsin- Madison in 1968 with a Bachelor of Science degree in nursing, and in 1975, earned a Master's degree in Education, focusing on Curriculum and Instruction.  She has also taken a significant number of post-master's courses.
Joyce was married in 1963 to Orland David McCollum whom she met in Madison.  He was in the Air Force.  Joyce worked at Mendota State Hospital for eight years.  They had a son, Paul, in 1968 and a daughter, Sarah in 1970.   In 1971, Joyce and Dave moved to Green Bay for a one-year educational administrative internship for Dave and never left the area. Joyce taught nursing at Bellin School of Nursing and Dave was a principal in the Pulaski School District.  Two darling grand-daughters, Emily and Gabrielle were born in 2001 and 2003 in Chicago.
Joyce began using her leadership skills at age ten, when she was the president of the 4-H Club.  During high school, she was the President of the Methodist Youth Fellowship group for three years. She was not able to participate in many after school activities as she had farm chores to do before and after school.  During nursing school, she was president of the Madison Nursing Student Association and was Miss Madison Student Nurse.
While working at Mendota State Hospital, she was a staff nurse, a nurse manager and taught psychiatric nursing.  While in the faculty role, she worked with staff nurses who felt that they didn't have enough nurses to keep patients safe, to organize and work with other nurses in other state facilities to form a union for nurses.  The union process was formalized just after she moved to Green Bay.
At Bellin School of Nursing, Joyce started as a part-time faculty member and moved into a leadership position in 1977, as a Curriculum Coordinator.  Here she was able to blend her love of nursing and what she had learned in her teacher education.  She then moved into the position of assistant director of the nursing school in 1981.  She considers her role in the transformation of the Bellin School of Nursing diploma program into a Baccalaureate degree granting nursing program, the work that has had the most impact on nursing education and ultimately on patient care.  The change was also important for women as it elevated education for nursing which remains mostly a profession of women.  She was excited about this, also.  Joyce led the committee work on the curriculum, wrote voluminous reports to apply for the change with the WI Board of Nursing and the higher education accrediting body for standing as a college and led the work to get the program accredited by the National League for Nursing.  Bellin College of Nursing was the first transformed program to get this latter accreditation without a denial or deferral.   In 1988, Joyce became the president of the college until she left the position in 2004.  Throughout her time at the nursing program, Joyce was inspired by a Dreamer and Doer, Lucyanna Hitch, who was a nurse and longtime member of the Bellin Hospital Board.  Lucyanna and the director of the program, Diane Koller, were instrumental in convincing the mostly male Board of Directors that nurses needed at least a bachelor's degree in nursing.    In 2009, she left the college to do projects for Nursing Administration at Bellin Health, which provided her an opportunity to work with many of the nursing graduates from Bellin College.
Volunteer work became a passion for Joyce during the 1970s.  She served as chair of the Legislative Committee of the Northeast Wisconsin District Nurses Association from 1977-1984.  During this time, the committee worked with state legislators to develop and pass a law that would require a registered nurse be on County Boards or City-County Boards of Health.  She served as co-chair of the committee from 2001-2009.  Joyce was a charter board member of the Wisconsin Nurses Political Action Committee.  She served ten years on the Endorsement Committee including a term as chair.  She also served as a board member for the Wisconsin Nurses Association and the Northeast Wisconsin Organization of Nurse Executives.  She served on Legislative Committees of these organizations.
She was on the steering committee to develop a Nursing Honor Society at Bellin College of Nursing and served as vice-president and president.  She has served as vice president and program co-chair of the Program Committee, and as membership chair and research chair of Kappa Pi Chapter-at-Large of Sigma Theta Tau International Nursing Honor Society.
The League of Women Voters is an important part of Joyce's life.  She served eight years as president of the League of Women Voters of Greater Green Bay.  She led or co-lead the planning for three 8th Congressional District Voter Education forums which each had 400-600 people attend.  She served on the Board of League of Women Voters Wisconsin Education Network.
The American Cancer Society was an important part of her life from the 1970s-2009 when she became a Volunteer Emeritus.  She served in nearly every office at the local level, and also on the state board of the Wisconsin Cancer Society.  At the Midwest Division, she served on the Community-Based Projects Workgroup from 2001-2008 and was chair of the group the last three years.  At the national level of the American Cancer Society, she was named a stakeholder to advocate for patients and families as part of the review team of ACS research grant applications focusing on Health Policy Implications and Access.
Joyce served seven years on the Community Development Council for Unity Hospice.  She was the chair and member of the Health and Wellness Impact Council of the Brown County United Way that makes recommendations for fund distribution.  She has served Peace Lutheran Church on the Parish Education Committee from 1980-2004 and Sunday School Superintendent for most of that time.  She has been the Health Ministries chair since 2000 and in 2009 became a volunteer parish nurse.  She is a liaison with St. Emanuel Luther Church in Ganta, Liberia which she visited while on a medical mission.
She is a member of the Rotary Club of Green Bay and serves on several committees.  Joyce is also Board Member of the American Foundation of Counseling serving as secretary and chair of the Program and Personnel Committee. On the Woodside Senior Communities Board, she is chair of the Quality and Facilities Committee and the Personnel Committee.
"My passion and hobby is volunteering, so I can leave the world a better place.  I am very happy that both of my children are also very committed to volunteer work."