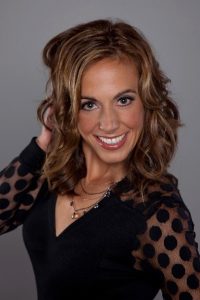 Kate was born in 1969 and raised in Glenbeulah, Wisconsin, the youngest of five children. Today Kate resides in De Pere, Wisconsin with her husband, Tom and is the proud mom of Emily, Madalyn and Ben.
Kate received her degree from Marquette University in 1991. She worked for Anchor Food Products (now part of McCain Foods) where she served as vice president of Human Resources. Before that, she held roles as the Regional Sales Manager, Director of Marketing and National Sales Trainer. It was as a sales trainer, traveling across the country in a customized semi-truck with her husband launching products at retailers that a big idea struck. She and Tom realized there was a business opportunity in improving how companies provide sales locations with marketing support materials.
The company made its first real break as she and her team pushed a borrowed hotel cart filled with marketing ideas up and down Madison Avenue. "It's the relationship we have with our partners from Madison Avenue to right here in Green Bay that has grown the company," she says. Originally it was known as Fulfillnet, when it launched in 1997, but it was changed to Elevate97 to reflect an expanded array of services.
Kate is CEO (the acronym she prefers stands for Chief Elevating Officer) and owner of Elevate97, which grew to be a 100-person company offering services in design solutions, production, distribution and technology to help brands better reach their consumers. She describes what her company does by saying, "We elevate brands. Think little boxes to big buildings. We show off world renowned retail brands like TaylorMade, Nautica, Pandora Jewelry and the Green Bay Packers."
What started in a garage in the fulfillment, warehousing and pick-pack ship industry significantly expanded to a 190,000 square foot facility of innovation and brand elevation in Green Bay, Wisconsin. Elevate97 partners with over 200 clients and produces and distributes over 40 million pieces of marketing magic every year to elevate world renowned brands in homes, businesses and storefronts around the globe.
Kate drives growth and commitment to partners through her own deep belief in elevating those around her—and having a darn good time along the way. She is quick to shine the spotlight on her team members, colleagues and partners when speaking of Elevate97's success. "It's not one person,'" she says. "You put the right people together with the right platform that you've established based on your values. Then you let people do their magic!"
Understanding the importance of community engagement, Kate has established three pillars for her company, that she asks all employees to uphold: fun, innovation and personal responsibility. The pillar of personal responsibility speaks to her desire for each person to work toward improving their teams, their company and their community. To that end, the company participates in Habitat builds, clothing drives and fundraisers for those in need. The company is also a frequent sponsor of such events as the St. Norbert College Girls in Leadership (GLAD) Camp and donates time and materials for events such as the Business in Ethics Awards hosted by the American Foundation of Counseling Services, or enrollment and fundraising initiatives for local schools.
Burgess takes her philosophy out into the Greater Green Bay community, as well. She is actively involved in numerous local organizations including The Women's Fund of Greater Green Bay, American Red Cross, Notre Dame Academy and The Boys & Girls Club of Greater Green Bay.
"Kate Burgess is the consummate role model for women of all stages of life. She has opened her business to show youth what they are capable of. She shares her story of humble beginnings and helps girls understand the countless career opportunities that exist", says Sylvia DuBeau, senior director of development for the Boys & Girls Club of Greater Green Bay.
Burgess was one of four board members who championed the Boys & Girls Club's strategic visioning work and established the Club's new mission, vision and values. As co-chair of the Club's Wine & Cheese event, Burgess helped the organization reach an ambitious $250,000 fundraising goal, approximately $100,000 more than the year before.
It seems impossible that a woman who manages upwards of 30 world-renowned brands annually would have the time to make these types of contributions inside an already packed scheduled. But giving back is a way of life for Burgess, who is a firm believer that the journey is the destination, and her life's work is to help her team understand their goals and find a greater purpose.
"We often say we only have one life and one planet to live it on. So the question is, how do we make it the very best we can? That requires elevating. Every person. Every relationship. Every project. Every day," says Burgess.