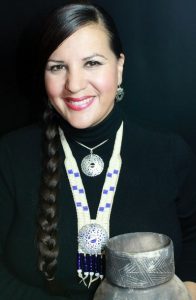 Jennifer Maria Stevens named after her Grandmother, Maria Anastasia Hinton, is also known by her Oneida name, Waˀkohsi•yó  (Wah-goh-see-yo) which translates to Peacock.  She has strived to utilize her love and skills in the arts to benefit her community.  She is considered a multi-faceted classical vocalist, soprano and a visual artist.  Her life's journey has been exploring various mediums from the visual to the performing arts.  Jennifer has woven a creative life as a painter, Oneida-Iroquois master potter/instructor, sculptor, creative writer, graphic designer, and photographer; with additional creative threads as a recitalist and soloist, and a classical contemporary composer.
Jennifer has also directed children's productions such as L. Frank Baums', the Wizard of Oz, Charles Dickens', the Christmas Carol, Dr. Seuss', the Lorax, and Oneida Legends with her community children encouraging their own creative endeavors and interests.  She feels that Children's Theatre is an excellent way to get children involved with various interests in their community.  She discovered through working with kids, her hidden talent; adapting children's stories and Oneida legends for stage. Writing scripts, designing scenery and costumes, and bringing the stories to life in community children's productions has been a wonderful growing experience for her cast and for herself.  All her productions so far have been well attended.
Jennifer has performed at Milwaukee's Indian summer festival. Her performance entailed art songs, music theatre, opera arias, and her original music.  She is an educator, and works to teach others to understand and appreciate different cultural and ethnic backgrounds.
Jennifer Stevens was the heart and soul of the NEWIST/CESA 7 and ETP-NEW Documentary Project:  Common Ground Concert which was held on April 24, 2012 a Meyer Theatre of Green Bay.  Jennifer was the soprano and composer and was accompanied by  performers; Kevin Locke, Lakota Hoop Dancer and flute player, Lawrence Harris, baritone, opera singer and former Texas Oilers lineman, with his wife Renee Guerrero, pianist,  Kent Paulsen, pianist,  and other special guests.  The concert entailed a combination of art songs, opera arias, and original compositions and collaborations that she created.  The performance palette ranged from classical, opera, musical theater, traditional Native American, and indigenous classical fusion.  She brought Oneida and Green Bay together for a wonderful event. It was an evening of building cultural bridges through Native American and European music.  Something not many people believed could be accomplished. Jennifer knew in her heart that she could make this happen. She took her dreams and transformed them into a reality. She brought her community together to celebrate life and song and dance.
Jennifer's story was highlighted on Wisconsin Public Television as part of a 30 minute documentary: Owe.la': The Music within Jennifer Stevens.  The program follows her journey as a Native American Artist. She's a potter and an opera singer who blends two worlds in her art, music and life.  This documentary also included some of the "Common Ground Concert".
All of Jennifer Steven's accomplishments prove her leadership and illustrate how she works with community and brings people together.  She is instrumental in inspiring the youth to live their dreams, be proud of their backgrounds, and reach their full potentials. The children from the Oneida Nation Elementary school were invited to perform a very special song with Jennifer.  Jennifer also wanted to involved the Oneida Youth Singers. One of the highlights for the Oneida Youth Singers was to be on stage and performing with Jennifer, such a positive role model and inspiration.
Not only does Jennifer see the children as future leaders she loves to involve them and work with them. Her actions speak louder than words, she wrote a song for the children, which she had performed with them.  Her singing voice, sounds like an angel's, reaching up beyond the rafters, and what sounded like it ascended up into the Creator's land. Notably, Jennifer wrote a song the children could relate to and something that will affect them in a positive way. The Oneida Nation Elementary school students sang with Jennifer, they sounded like little angels, accompanying Jennifer Stevens' heavenly voice. It was such a beautiful collaboration to experience.
The performance was memorable for not only the audience, but for the performers.  I know that being on stage changed those children, and created a memory that will last a life time. It instilled in them deep cultural pride, as well as, a feeling of accomplishment.  After the performance, I have heard children say that they wanted to be like Jennifer when they grow up.  Jennifer is a true leader, and she knows how to inspire others. I believe in this world, the most important people to inspire and reach are the youth. Jennifer Stevens did that and continues to do that in a beautiful creative way.
Jennifer has the gift of art: painting, pottery, and music. She is able to interweave her culture into her gifts in a way that is truly amazing. She breathes new life into a lot of what she does, and she can reach out and relate the traditional teachings to the younger generations.
Jennifer has helped to revitalize Iroquois pottery.  Iroquois pottery is an ancient old art form that was once a part of the Iroquois people's daily lives.  Although we experienced a 250 – year lapse, we are gradually building our own history that we hope will be carried on and shared with many generations to come.  Jennifer worked closely with Oneida Elder Rose Kerstetter striving to replicate, connect with this organic, intricate, and beautiful earthenware that the Iroquois people once thrived on and used for storing and cooking food.   Jennifer not only replicates traditional pottery, but she also creates contemporary pottery pieces.  Jennifer has shared her talents with the Youth and can be seen at the Oneida Nation Museum and many community events instructing pottery workshops.  She is letting the ancient form of pottery live though her and insuring that the future generations learn and continue the art.  Her Iroquois pottery was also featured at a Neville Public Museum show.
As well as, preserving traditional art forms, Jennifer is working to preserve the Oneida language.  There are only a handful of community members that speak the language.  Jennifer's grandmother, Maria Hinton, has preserved the language by writing the Oneida dictionary. Jennifer is keeping the family tradition alive, and is taking a modern approach and infusing the Oneida language with modern art and music. She is working with elders on pronunciation, so she can sing the Oneida words and continue to keep the language alive.
Stevens comes from a large family of athletes, professors, advocates, leaders; she is the youngest daughter of nationally known Native American leader, orator, educator, historian, and Economic Development Specialist, Ernest L. Stevens Sr., and the late Patricia (Brewer) Stevens.  Stevens is also the granddaughter of Oneida linguist/instructor and the first Oneida Dictionary co-author, Maria Hinton.  Stevens feels one of the most valuable philosophies she has learned from her parents and grandparents is: stressing the importance of perseverance, integrity, higher education, and utilizing your abilities and creativity to strive to make positive changes in your communities, especially for our future generations.
Jennifer Stevens has a soft spot for humanitarian efforts, the arts, youth, and elders.  Stevens strives to balance her life to become the best that she can become; she feels she can paint a thousand paintings and sing a thousand songs, but what good are they if she can't share them with others.  She really does bring an aesthetic quality to the community that is incomparable to any other. She radiates her talent and splendor into the arts, and that is reflected into everything that she does and everyone she comes in contact with.
Stevens feels as she develops and strives a certain professional level in her career as a musician and artist, she will eventually dedicate the rest of her life encouraging others in the arts through a Children's Creative Arts Foundation of her own.  In the meantime, Stevens will continue to engage in the arts and all the wonderful experiences of her life.