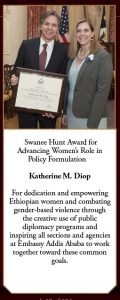 Katherine M. Diop (Katie to friends and family) was born in Madison and raised in and around Northeast Wisconsin. Her childhood (like many of us who grew up in Wisconsin) was filled with friends, family, school and sports. Katie's family loved to sing together and she has many fond memories of performing with her family at local events. She excelled at school and loved learning about other cultures.
Katie received her undergraduate degree from Lawrence University. It was at Lawrence that her interest in making a difference in the world coalesced. Her studies in international affairs lead her to apply for and be awarded the Hubert Humphrey grant in 1999 to do an internship at a Senegalese NGO called AFEE which works on issues related to women, children and the environment.
It was while Katie was attending Lawrence University that her passion for making a difference in the world evolved into making purposeful choices that continued to move her towards her current life's work. Early on in her career Katie recognized the level of vulnerability of women and children, especially in areas of the world where living conditions created greater exposure. She naturally gravitated towards organizations and affiliations that embraced the support and nurturing of these at-risk segments of the population.
Katie also studied in Dakar, Senegal for the spring semester of her sophomore year (1998), and then spent her senior fall semester (1999) at American University as part of the Washington Semester program. During that time, she did an internship and also did a field practicum in Harare, Zimbabwe.
After earning her undergraduate degree, Katie went on to attain her Master's degree with an MBA in Global Management, 2015. She is quad-lingual – English, French, Wolof and basic Amharic. She is now the cultural attaché for the Ambassador at the US Embassy on the Ivory Coast. In her current position, Katie works at the Cultural Affairs Section of the American Embassy and is responsible for the coordination of people-to-people, cultural and educational exchange programs between the United States and Cote d'Ivoire. Cultural programs permit Americans and Ivoirians to meet and discuss subjects of mutual interest. Exchanges occur by way of conferences, debates, presentations, book discussions, film events, concerts, and art exhibits.
Katie is the recent recipient of the 2016 SWANEE HUNT AWARD FOR ADVANCING WOMEN'S ROLE IN POLICY FORMULATION. This award specifically recognizes achievements in the area of promoting women as participants in the political and economic processes or as policy shapers. Katie was invited to the White House, in mid-November of 2016, where she attended the awards ceremony and received the 2016 SWANEE HUNT AWARD FOR ADVANCING WOMEN'S ROLE IN POLICY FORMULATION from Senator John Kerry.
In addition to all that she does to make a difference in the world Katie is the mother of two – one of her proudest accomplishments.