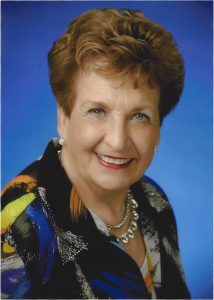 "Use your talents to make a difference" has been Carol Jones' motto since childhood. Born and raised in Green Bay, she credits her parents and her education at St. Patrick Grade School, St. Joseph Academy and the College of St. Teresa, Winona, Minnesota as major influences, being pro- active and making a difference in the community.  Her father, Dr. Melville J. Junion, was a volunteer civic and community activist who served as her role model.
Graduating in 1959, with a B. A. degree with a double major in Education & Social Science and minors in Psychology and History, she joined the staff of the Catholic Youth Center in Minneapolis, Minnesota as a Contact Organizer among high school girls. She returned to Green Bay in 1961 to join the Green Bay Diocese Apostolate staff, as a social caseworker.
In 1962, Carol married William A. Roach and moved to Wausau, Wisconsin where she had four children; Beth Anne Waldeck, a 30year Speech Pathologist in regional public school systems and currently a returning UWGB student pursuing her passion for a music degree; William J. Roach, Assistant United States Attorney, Green Bay Division, Michael P. Roach D.O., Director of Optometric Services, Chesterton, Indiana and Dr. Stephen W. Roach, Director of Jazz Studies, Sacramento State College, CA. The children have given Carol a total of nine grandchildren and more fun than you could imagine! In 1976, Carol and her family returned to Green Bay, where she was divorced and reentered the workforce.
During her tenure at the Green Bay Area Chamber of Commerce (1986-2006), Carol rose from Membership Director to Vice President of Development where, she attained its highest honors: Certification in Chamber Management from the Wisconsin Chamber of Commerce Executives and the American Chamber of Commerce Executives. Due to her Green Bay achievements in chamber membership development, she served on the National Board of Membership Directors (NAMD) and was a speaker/presenter at annual conferences held throughout the United States and Canada. Interestingly, in 1998, she was a presenter at the AAUW-Racine State Convention on the topic "Ethics in the Workplace". Representing the chamber, Carol served on numerous business boards: De Pere Main Street Program, Downtown Green Bay Inc., St. Mary's Hospital A Woman's Place, Power of the Purse Foundation and the Mayor's Beautification Committee. Carol felt it was imperative that her role was to be a catalyst for positive change by helping others to achieve their goals to be successful and that the workplace should be fun. Who else but Carol could get 19 business leaders to commit learning a dance routine from a professional teacher, practicing for five weeks and performing at the Annual Chamber Business Meeting held at the Meyer Theater.  The dance song–"Taking Care of Business". Upon her retirement from the chamber, the Green Bay City Mayor Jim Schmitt presented her with the Key to the City (they changed the locks the next day!), a Citation from the Chamber Board of Directors and a hilarious Citation from the Mayor's office.
Carol's firm belief "if you want a volunteer, then you need to be a volunteer yourself" was evident throughout her work life. She served on boards and committees for the Brown County Historical Society, Curatorial Committee for Heritage Hill State Historical Park and the Neville Public Museum Foundation. In the Brown County Historical Society's Centennial year, Carol engaged others, as well as, herself to write articles for the Green Bay Press Gazette about the influences of historical people, places and events that made a difference in the community. To say that Carol is creative needs only to acknowledge her work in different media.  She wrote and produced a historical musical production "Dancing through the Decades" for Brown County Historical Society's Centennial Year.  She has portrayed Jesse Buchanan, founder of the Antiquarian Society, for the Brown County Historical Society's annual Cemetery Walk Program, the Antiquarian Society and Neville Public Museum.  To raise the visibility of Green Bay, she submitted a winning entry about Zachary Taylor to the "150 Intriguing Investigations Contest" celebrating the 1998 State of Wisconsin Sesquicentennial Year.  She served on the Community Committee for the Wisconsin Public Television programs "Green Bay-Our Town Series" and represented the Antiquarian Society on the documentary program, Green Bay -"The History Keepers".  She wrote a featured article "Preserving the Past, Inspiring the Future" on the ninety-year history of the Antiquarian Society for The Voyageur Magazine.
Carol has also impacted the Green Bay & De Pere Antiquarian Society with her leadership skills.  She served on the Board of Directors as Vice Governor and as Governor.  Since 1976, she has served on every subcommittee and created the Artifact Committee documenting the hundreds of artifacts the Society owns, as well as, the Society's historical and financial records. During her term as Governor, Carol developed an enhanced website for the Society. At that same time, the Society held a successful community wide campaign to raise $1,200,000 to purchase the collection of paintings, rugs, Lincoln photo and other artifacts from the Brown County Library in order to keep them in the community. They had been gifted to the Library in the early 1900's for the community's benefit. She negotiated with the Neville Public Museum to house the collection for safekeeping. Carol was influential in placing selected works of the art in public buildings and implemented the Howard Pyle Collection of paintings (part of the purchase) to be exhibited at St. Norbert College. The culmination of her contribution was in 2011 with the Antiquarian fashion show "Step Back".  Carol wrote, produced and involved community leaders in this vintage fashion show and pictorial social history of Green Bay and De Pere from 1900-1960. Proceeds funded restoration and conservation of the Heritage Collection.
Vintage fashion has been a lifelong interest for Carol. When she was in college, co-hosting annual Spring Fashion Shows with St. Mary's Men's College was a great learning experience for Carol, writing fashion script commentary. Living in Wausau, Carol joined the YWCA and helped them with raising money to support their programs by producing Vintage Fashion Shows from the vast collection gifted to the YWCA.  She earned a Life Time Membership & Achievement Award for her volunteer activities. Carol also loved organizing summer neighborhood block parties and engaging all the children in the neighborhood by doing talent shows and plays with them. She has collected historic fashion clothes from the late 1890's through 1980.  She has shared her collections with presentations for the De Pere Women's Club, Neville Public Museum and many other organizations. In 2015, she presented a program with Karen Cowan, Emeritus Dance Professor UWGB & Madison "From Hoop Skirts to Hobble Skirts"– A Panorama of the History of Women 1870-1915.
Carol lives her faith and values the opportunity to provide continuing educational opportunities with the  "new evangelization" for all ages. Since 2001, she served on the initial committee to develop a diocesan museum. In 2004, the Bishop Wycislo Center was built as an addition to St. Francis Xavier Cathedral, downtown Green Bay. It included a museum in the lower level. She currently is the Museum Coordinator and with her committee recently implemented an interactive computer terminal kiosk documenting the history of the Catholic Church in Northeastern Wisconsin.
Carol has shared talents and skills in organizational management, leadership, creative media, fashion and historical research.   Carol is not only a "Dreamer" but truly a "Doer".