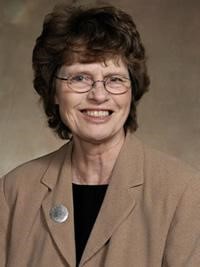 The perfect embodiment of the meaning of the phrase "public service", Judith Ellen VanderMeulen Crain has spent the past five decades serving the people of Wisconsin, with selfless and tireless dedication, as a leader of community initiatives and a voice for the vulnerable and the unrepresented.
Although born in Waupaca, she considers Madison as her home, where she lived since age 12 and where she attended the University of Wisconsin.  There she met her husband John, and married him in 1959. They lived for three years on Marine Corps bases in Quantico and 29 Palms, moving to Beloit in 1962 and finally to Green Bay in 1971.  They have three boys and five grandchildren.  Judy credits growing up in Madison and her dad, a high school history teacher, coach, and principal, with her strong belief in the value of public education, her interest in social and political issues, and the conviction that personal involvement can truly make a difference.  She says her maternal grandmother, an immigrant and single mother, who worked in an insurance company to send two children to college and was the first woman in her town to vote, was the inspiration for her passionate feminist orientation.
Locally, she is probably best known for her many years on the Green Bay School Board:  first from 1974-1981, and again from 1995-2002, during which time she served a total of six years as president.  She worked to ensure the strength and quality of Green Bay schools for all students and families in all neighborhoods, providing programs for all student needs.  Judy also served on the boards of many other organizations dedicated to education and children, including the Boys and Girls Club, the Nicolet Federated Library System, and Scholarships, Inc.  She was chair of the Children and Families Impact Council that launched the Community Partnership for Children from 1993-2004.  She was Campaign Chair for Brown County United Way in 1982, and her service on the Board of Directors included the years 1996-1998 as president. Recognizing her expertise and leadership in the field of education, Judy was appointed to the Board of Regents of the University of Wisconsin and served from 2005-2012. She also represented the UW Regents on the Educational Communications Board and other groups, while locally she was one of the UW-GB Chancellor's Council of Trustees.  Her efforts on behalf of education and children earned her awards from the Green Bay Area Public Schools, the Green Bay Education Association, the United Way, Wisconsin Headstart, the Boys and Girls Club, Family Services of Northeast Wisconsin, and the Wisconsin Council on Children and Families.
Empowering women and girls was also a high priority for Judy, serving as Coordinator of Services for the Sexual Assault Center of Family Services, and as a board member of both the local and state League of Women Voters.  She has been recognized for her efforts in this area by the Girl Scouts, Zonta, Women Against Domestic Abuse and the YWCA.  Furthermore, as she watched the community grow more diverse, she recognized the challenges and richness this would bring.  So she led Diversity Circle discussion groups and joined the board of the Multicultural Center of Green Bay, reaching out to create more dialogue and interaction among the various groups involved.
Her interest in the underlying structures and systems within a community led her to becoming president of the Bay Area Community Council, a group concerned with creating dialogue and inspiring action on the impact of a variety issues affecting general quality of life and equality of resources.  Her reputation led to recognition by the wider world: she was appointed as a lay representative to the State Supreme Court Committee on the State Bar,  the Panel on Selection of Federal Court of Appeals Judges, and as a member of the State Medical Examining Board!
Active in church ecumenical and interfaith efforts, her naturally inquiring mind became interested in theology and the role that religion plays in individual history and the community of life.  So, at about age 50, she went to study for two years at the United Methodist Seminary in Evanston, Illinois.  And she since shares her spiritual interests with area groups of all faiths.
Not surprisingly, when she ventured into the field of historic dramatic interpretation, she chose to portray strong women whom she admired.  Among them have been Jane Addams, Louisa May Alcott, Eleanor Roosevelt, Anne Sullivan, Margaret Mead and local favorite Ruth Clusen.
Modest about her achievements, she claims that she was often rewarded for being the "right sex in the right place at the right time"! She feels lucky, saying she has found it all "so interesting: people, how things work".  She admits to loving interaction – that she badly needs people.  "I believe it is important that people take part in government on all levels and be informed on issues that affect not only you personally but the community at large,  and I hope that we will continue to try to meet the challenges in education, civil rights, equality, justice, and the protection of the planet. "   Finally, when asked for advice to others she replied:  "Discover and do what you love, care beyond yourself, your family and your neighborhood. Get involved – learn, participate, and accept your responsibility to the larger community. " Judith Ellen VanderMeulen Crain is certainly a woman who has been passionate about living all aspects of her own life as she has just described…