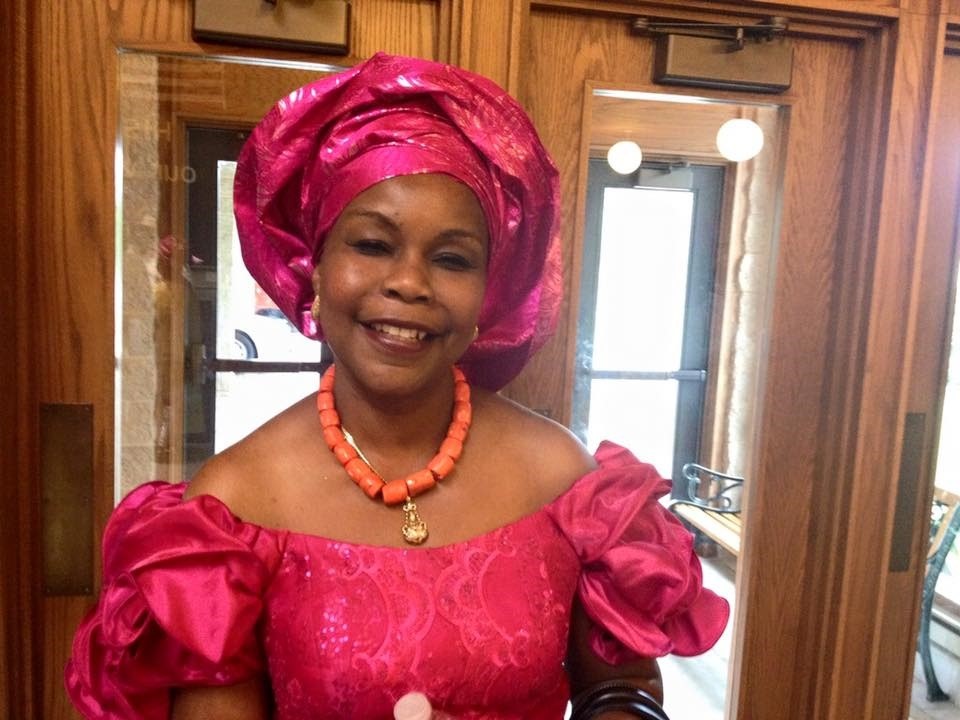 As the daughter of a chief, Juliet Ebiere Egbuson Cole was born a princess, in Benin City, Nigeria, in 1948.  Since her father was also a top official in the police, the family moved often and she grew up in several cities until attending boarding schools: secondary at St. Margaret's School in Ilesha, western Nigeria, and Advanced Level at the Federal Government College in Sokoto, Northern Nigeria. Here she earned her Higher School Certificate and also met her late husband Professor Clarence Cole (aka Clary Nelson-Cole), who was an art teacher.  After Juliet graduated, he followed her to Lagos; and they later married as Juliet's father wished: in the African tradition in Warri, Nigeria in 1970.  The couple then came to the U.S. where Clary finished an advanced degree at the University of Illinois in Champaign-Urbana and they married again in the American legal/church system in 1971.  In 1973, they came to Green Bay where Clary had been hired by the art department as the first African professor in the University of Wisconsin Green Bay.  She is very proud of their four sons, two born in Illinois: Clarence Olufemi Dakore Cole, and James-Allen Oluremi Cole; and two in Green Bay: Elton-George Adeyemi Cole, and Hector Olusegun Cole.  All are U.S. citizens, with three living in the states and one in Japan.  And she's delighted they have given her six granddaughters and two grandsons!
Juliet's family believed very strongly in education; so in Green Bay she wanted to continue with a nursing program she had started in Illinois. Since UWGB did not yet offer that option, her professors urged her to take advantage of her unique background and experience; so she finished her Bachelor's Degree in Social Change and Development with a Social Services Collateral and her Master's Degree in Cross-Cultural Counseling, while working on campus in Student Services and raising her family.  She also holds a Diploma in Modern Management from Cambridge, England.  She credits Professors David Galaty, Julie Brickley, Ija Korner, Rolf White, Dick Logan, and Dr. Kangayappan for being her mentors: encouraging her critical thinking skills and generally "allowing me to blossom".
The Cole family left Green Bay in 1983 for Benin, where Clary was Dean of the Art Department and Juliet worked for the University Demonstration Secondary School and later in University Student Affairs; but she was not happy, and later departed for Saudi Arabia where she was the Executive Director of a sports rehabilitation center for 10 years.  It was during this period that Clary passed away in Nigeria, and in 1998 Juliet decided to return to Green Bay and become a U.S. citizen.  "My spirit is at peace in Green Bay, and I felt I could make a contribution."
And what a tremendous contribution she has made!  The "official" mission of The Institute for Learning Partnership at UWGB, where she is the Associate Director, is "to enhance professional development for educators to improve academic achievement for all learners." For her that simply means making connections between the university and the schools:  finding ways to increase the enrollment of minorities by facing the challenges of closing the achievement gap while encouraging all students to achieve to the best of their abilities. Passionate about multiculturalism and increasing a general understanding of the importance of respecting all cultures, she has been eager to give educators tools for including diverse students and helping them to provide support for students of color.
As an ambassador for her culture, she started the Nia African and African-American Dance and Drumming Group in 2001 which has performed in many community, church and school events.  She teaches African dance workshops, does storytelling, and gives numerous presentations on Africa to students and adults in many different venues throughout the area. She is a co-founder of the Diversity Circles programs, and has been both a facilitator and a trainer of leaders for these groups.  In addition, she served on various boards and committees for the community, including the YWCA, Green Bay Family and Childcare Resources of Northeast Wisconsin, Inc., Green Bay African Heritage, Inc., Diversity Councils/Committees of NWTC, New North, and the Chamber of Commerce Leadership Green Bay etc.  She is especially proud of having served on both the Board and the Impact Committee for the United Way; and also provided special expertise to the Minority Student Achievement Committee for the Green Bay School District.  She has never lost faith in progress or in the potential of people of color to enrich the community.  She sees it as her "mission" to bring people together, to serve the community by connecting cultures and thus improving relationships among and between people.
In Juliet's words: "I want to bring people together, to serve my community by connecting people – showing true love.  I believe we all have talents and skills that nothing is too small to share, that it's important to make our voices heard."  Finally, the message she would pass on is: "We all have it in us – the passion to spread love, help others, and work toward peace in our homes and the community. So we should all strive to be the best examples of those ideals that we can be."    Juliet's own life is proof of how much can be accomplished when one does live by that message…