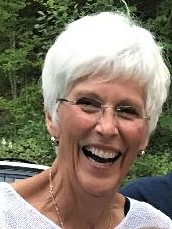 There are many styles of leadership. Some lead with loud voices and an exaggerated sense of their own charisma. Some lead by example, quietly and respectfully.
Tracy Arndt epitomizes the later.  She has chosen areas of leadership that fit her interests – children, families, education, church, competitive swimming – and has risen to positions of leadership both professionally and in the volunteer world, always maintaining her modest manner.  It is said she is a strong leader that people want to work with and is deeply respected by other members of her various teams.
Tracy was born in Green Bay to Bob and Carol Bush.  She has two brothers, Terry and Thomas, and one sister, Toni.  She graduated from East High as salutatorian.  While there she was a cheerleader, in numerous school activities and clubs, and on the YMCA swim team.  In her senior year she became a YMCA national champion in swimming.  According to her mother, Tracy has "always been a leader and a role model."  Her personality and enthusiasm were evident at a young age.
While attending UW-Madison, majoring in Food Science, she was the first woman to swim for the Badgers, before Title IX mandated a women's swim team, and was recognized by the university in 2008 for her achievements, naming her a "Badger Legend."  Tracy was also president of her sorority, Gamma Phi Beta. She met her future husband, Tom Arndt, on a blind date at Madison and they were married March 9, 1974.
After graduating from college, she worked in quality control with Specialty Foods, a division of Beatrice Foods in Beaver Dam, Wisconsin.  From 1974 to 1976 Tracy worked as a Production Supervisor and Quality Control Supervisor with Schreiber Foods, Logan, UT.  In 1976 she and Tom moved across the US to Arlington Virginia where Tracy was a management trainee for Safeway Milk Plant in Landover, Maryland.
After a year in Danville Pennsylvania where their first child, Jennifer, was born, a career move for Tom took them to Dayton, Ohio.  In Dayton, their son, Jonathan, was born.  Tracy completed her MBA at The University of Dayton in the early 1980's, conducted market research, and also started a babysitting co-op.
Following a move to Sturgeon Bay, Tracy coached high school swimming and began children's programming for the YMCA.  Tracy and Tom moved back to the Green Bay area in the mid 80's.  Here they were surrounded by family and Tracy worked for Schreiber Foods in Market Research.
Her first connection to Encompass Early Education and Care, Inc. occurred when her third child, Jay, was born.  Childcare was necessary.  She recounts that when she was in college it was implied that women could have it all – a career, a family and a balanced life.  "Then when you are doing your laundry at 11 p.m., you haven't had a chance to sit down, much less read a book, you think, 'who said having it all would be this much fun?'"  It was time to say goodbye to the corporate world.  The Green Bay Community would benefit greatly from their decision!
Tracy began her quest to make a difference in the Green Bay area by joining Service League of Green Bay.  While the organization introduced her to many talented and caring women, it also showed her where the needs were in the community.  It was about this time that The Big Event for Little Kids was begun by her mother, Carol Bush, to both raise funds for Encompass and increase visibility for the organization.  She began as a committee member and has co-chaired the event for over 20 years.  Over $1.5 million has been raised to help Encompass provide quality early education and care to all children, regardless of their economic circumstances. Tracy also has served as president of Service League and as president of the Encompass Board of Directors.  She currently works for Encompass in Fund Development. Tom and Tracy's three wonderful children: Jennifer, Jon, and Jay, have now blessed them with 10 grandchildren, another reason she believes in quality early education.
Other organizations have benefited from her talents:
The local PEO chapter benefited from Tracy's talents as she held numerous offices within the chapter including president
The Unity Hospice Development Council was fortunate that during her tenure as chair there was a 70% increase in donations enabling significant growth in the number of patients and families served
The Sturgeon Bay YMCA benefited when Tracy developed their first programming for children
UWGB Founders Association – involvement in the capital campaign created to raise funds for a science building, faculty support, financial aid and more
Junior Achievement Advisory Council
YMCA Board of Directors
Willow Tree Cornerstone Child Advocacy Center Board
Norbert Board of Trustees
Because Tracy has been involved in sports all her life and swimming is a passion, her role as coach of the Ashwaubenon Swim team for 20 years has a special importance.  She coached when her daughter was on the team and she continued as head coach of the girls swim team after Jennifer graduated. Tracy then took on the task of coaching the boys team as well.  She used her leadership skills and has produced countless champions at sectionals and at the state level.  The principal at AHS said, "Tracy doesn't just coach the athlete, she coaches the whole student.  Her swimmers form a unique bond and chemistry that not only challenges them to become better swimmers, but better people."  She encouraged students to set goals, work hard, and contribute any way they could, doing all in her power to help them reach their potential and become productive citizens.  She says, "I've seen firsthand the benefits that come from playing a sport.  It's not only healthy in terms of physical activity, it teaches you about competition – the world is competitive and you learn how to win and lose and thrive in the process.  Sports teach responsibility, hard work, time management and teamwork – all important life skills."
Tracy has been awarded with the Encompass Child Care Children's Benefactor Award, Encompass Carol B. Bush Award, the YWCA Women of Distinction, and the Ester Bie Award given by the Girl Scouts of LacBae Council.
When people describe Tracy, words like caring, giving, quiet, generous, supporter, teacher and mentor all come to mind.  She is much more than these descriptors, she is a role model and inspiration to all.  She dreams big and accomplishes those dreams with hard work, perseverance, organization and kindness which is seen in everything she has accomplished.