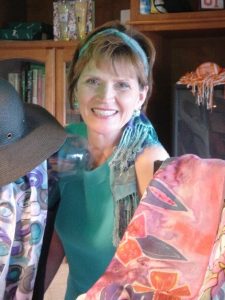 Sandra or Sandy as she is known to most is as bright and colorful as the art she creates. Whether it's through her stunning silk paintings or as an artist in resident at a school, she feels blessed to have so many opportunities to share her love of creativity.
Sandra (Sandy) Wells Melroy was born on November 23, 1957 in Oak Ridge, Tennessee. Sandy attended college and obtained a Bachelor of Arts degree at University of Tennessee-Knoxville, where she majored in Home Economics and minored in Fashion Merchandising. Sandy also found time to be on the tennis team, and in leadership positions through the dorm residence assistant and student orientation programs for the college.
In 1978, Sandy married Roger Melroy. They have four children, twins, Brian and Doug, Justin, and Andy, and now a larger family including four daughters-in- laws and three grandchildren. Roger works for Kimberly Clark, which provided opportunities to relocate 15 times during their marriage. They moved to Green Bay in 2004, following an 8-year ex-patriot assignment in England.
Sandy's life has been greatly influenced through living in diverse communities, being immersed in a variety of cultures and sharing experiences with the people she has met through her interests in history, nature and art. Along with the many opportunities that relocation provided, the frequent moves produced challenges also. As an educator, Sandy's main goal was getting their children through constant school and curriculum changes and then restarting her teaching and home-based seamstress career. Becoming involved in every community was both a way to settle her family and also put down roots quickly. Sandy concentrated her efforts within the non-profit realm and served on numerous boards of directors including national and international organizations such as the Humberside International Women's Club, YWCA, YMCA, Women's Club, United Way, Habitat for Humanity, Boy Scouts of America, ARTgarage, Mosaic Arts, Inc. and numerous parent groups in schools. Creating leadership workshops for middle school students in several communities (including the UK) was especially rewarding for Sandy, pulling together community business leaders and prominent political leaders for sharing resources and inspiring our next generations of leaders. In addition, Sandy's leadership roles have included AAUW, where she was president of the Green Bay Area Branch in 2014-15 and as a chairperson for various study groups.