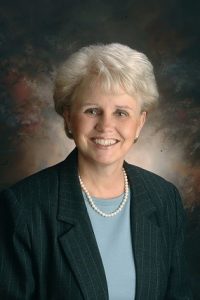 "Every person is valuable and important; I want people to succeed; I will treat people kindly and fairly" reads the mission statement that Rose wrote for herself 25 years ago and is how she lives her life.
Rose was born in 1945 in Green Bay WI and is married to Clayton Smits.  She has two children and two grandsons, as well as, two stepchildren.  In her free time, she enjoys walking, gardening, reading and spending time with her eleven brothers and sisters.
Her degrees in Growth and Human Development and Elementary Education from the University of Wisconsin–Green Bay led her to begin her professional career as a second grade teacher.  Her career at Encompass began in 1988 when she served as Director of Center Operations and Assistant Executive Director.  Rose became the Executive Director, was ultimately responsible for an organization with 220 employees, a $5.5 million budget, site expansion, and ever increasing governmental and legal compliance.  As Executive Director, until her retirement in 2008, she headed major agency building projects, negotiated contracts with government and corporate partners and served on collaborative ventures to promote the agency and its mission.
Providing leadership in furnishing quality services for children and families and acting as link to a thirty-member Board of Directors, she assumed responsibility for implementation of all board approved policies.  While doing all this, she accomplished graduate work in Administration at Wheelock College in Boston, as well as, Communications and Ethics at St. Norbert College.
Rose's business philosophy includes valuing each other, excellence, teamwork, and laughter.  Her effectiveness in all she does is because of her strength and her quiet, steady, gentle manner.  Her charm is her ready smile; her caring and support of all who have helped build Encompass Early Education and Care, Inc. into a leading child care agency.  Her actions and memberships in community organizations have been a model that is respected by all who know and work with her.
Because of her continuing desire to add to the well-being of all women and children, she has been a mentor to other professional women and also an advocate for women of all socio-economic groups in their quest to rise out of poverty.
The community has recognized her for her contributions with:
The Zonta Award in the Social Service and Government category
The Athena Award –for displaying outstanding commitment to her profession, advancement of women and community service
The Vocational Service Award from her Rotary colleagues
The R.C.Nelson Award for her efforts in the W-2 study and the Excellence in Non-Profit Leadership Award from the United Way
Many organizations have benefited from Rose's expertise and leadership.  She has served on the Wisconsin Council on Children and Families, the American Foundation of Counseling Services, St. Vincent Hospital Advisory Board, Start Smart-the Early Childhood Council, Wisconsin Interfaith Response Needs, Family Self Sufficiency Advisory, Bay Area Community Council, Oral Health Partnership, Job Center Business Advisory, UW Board of Directors and the UW Agency Advisory Executive Committee, United Way Health and Wellness Council.   Leading the DePere Beautification Committee and as a member of the Women's Club of DePere, a service organization, she remarks," I believe in supporting a wide array of human services that benefit children and those needing a helping hand.  Volunteer hours increase each year."
Rose Smits is the epitome of a servant leader who humbly and ethically works to make the lives of the underserved and the community as a whole, better.