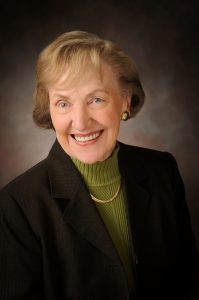 1929! It was a happy time in the Finder household when little Pat arrived on the scene, joining her businessman father, teacher mother, and beloved sister, Mary Jeannette. Born in Platteville, WI, but raised in Rock Springs, WI, the happy times were short lived when the Great Depression meant that the family lost their home, Dad's business and yes, even the car, a Model-T with a rumble seat. (Perhaps that precipitated Pat's love for convertibles!)
In spite of poverty, the lessons of love and of optimism engulfed her as her life enfolded. Material things were rare, and new clothes were those "hand-me-downs" from older cousins. But life was rich and meaningful with countryside hikes through wooded valleys and picturesque hills, learning about nature and the area's glacial history. And it was discovering worlds far away from challenging books and tales of earlier years during the Great World War from those who had experienced it. Older folks were thrilled when Pat would read to them when she was barely two years old.
When her father was appointed Postmaster and her mom was a substitute English teacher, hardships were fewer. Pat started first grade at age 4. Because the local school only offered ten grades, she and her sister lived with grandparents in Platteville to finish high school at age 16. Aspiring to be a nurse, but too young to enter "nurses training", she worked as a nursing assistant in St. Mary's Ringling Hospital in Baraboo, until she turned 18.
She attended Columbia Hospital School of Nursing in Milwaukee and upon graduation with honors, moved to Chicago to work in Cook County Hospital, as a psychiatric nurse. She had affiliated there as a nursing student and was appalled at the care of persons with mental illness at that time, so was determined to "change the system."
However, in 1951 as the Korean War was escalating, Pat felt that military service was a necessary calling so she was commissioned as a 2nd Lt. in the US Air Force Nurse Corps. She served on active duty in New York State, a remote duty station in Greenland, and completed active duty with the Strategic Air Command in Florida. Her service as an Air Force Nurse remains a high point in her life as she established great friendships and experienced unique situations. For example, a helicopter ride hovering and peering deep into glacial crevasses, flying in formation in a T-33 while participating in aerobatics over the Atlantic Ocean, being a guest of King Fredrik and Quesn Ingrid of Denmark on their royal ship receiving special accolades from the King. But best of all was the opportunity to serve with terrific Air Force colleagues.
When Pat's active duty assignment came to a close, she married Mark Stone, a close and loving friend from her hometown area. They established their home in Boulder City, Nevada where Mark was teaching and coaching. Pat continued her practice of nursing and continued service in the Air Force Reserves. They began their family when their first daughter, Teresa, was born but decided to return to Wisconsin to live and to appreciate stable Wisconsin values. Upon return, they lived in Two Rivers, Cazenovia and Mayville, as Mark completed his graduate degree and began his career as a school administrator. The family expanded when a second daughter, Susan, was born and sons, Mark and Matt arrived shortly after. Pat's Air Force Reserve status was now cancelled as the flight surgeon decided she could not continue because she had minor children, a prohibition enforced at that time and reflective of the times.
Another chapter of her interesting life began with a move to Northeastern Wisconsin where Mark accepted a position as the first principal of Ashwaubenon High School, where he supervised the building of the school, established the curriculum and hired the entire staff.
At this time, Pat returned to school and received her Public Health Certification from UW- Oshkosh. She then became an honors graduate from both UW-GB with a BS-Human Biology (Gerontology Emphasis), and a Masters Degree from UW-Madison (Education/Bioethics).
Pat continued her nursing practice at Bellin Hospital as staff nurse, head nurse, hospice director and Bellin School of Nursing instructor. An interim appointment as director of a local long-term care facility preceded her appointment to the faculty of Northeast Wisconsin Technical College where she continued her career as a Nursing Instructor for 16 years until her retirement in 1995.
Retirement did not mean the conclusion of her nursing practice as Pat's husband experienced a massive stroke with partial paralysis in 1996 and she was able to care for him at home until the time of his death in 1997, after 43 years of marriage. The children, now grown and gone (England, Maryland, Virginia and Alaska) with families of their own (seven grandchildren) visited when able. Although alone now, it did not mean that loneliness would ensue as Pat had been actively involved in her community for many years. As she looked at her world, she recognized so many needs and was determined to do what she could to address them.
Losing her parents and sister to lung cancer precipitated involvement in the American Cancer Society for many years, serving on local, state and national committees in top leadership positions and ultimately honored as a National Board Emeritus. She also served as Chair of the Policy Committee of the WI Tobacco Control Board and chaired the local Coalition.
Her devotion to community is a precious gift. It shines through her work as a professional in the field of nursing and as a health care advocate. It inspires others to share her commitment to quality health care and healthy communities.
Her leadership skills and boundless energy have benefited many organizations including AARP (State President, Governmental Affairs Chair), Coalition of WI Aging Groups (State Legislative Chair), WI Board on Aging & Long Term Care (Chair), Brown County Aging and Disability Resource Center (Board of Directors), Bay Area Agency on Aging (Bd. member), HSHS Advisory Board (Vice-Chair), Bay Area Community Council (BOD/Past president), Brown County Board of Health, De Pere Board of Health, Aspiro (Legislative Chair/Past President), Visiting Nurses of Brown County (President), Greater Green Bay Community Foundation (Board member), UW-Wisconsin Comprehensive Cancer Council, Bay Beach Wildlife 4K Program Benefactor (Steering Committee), League of Women Voters of Greater Green Bay (President/Bd. member/Action Chair) and League of Women Voters-Wisconsin (Bd. of Directors/Legislative Chair) Pat is proud to maintain a nonpartisan stance in her board and committee activities and tries to address issues objectively. She has been appointed to policy boards and committees by both Republican and Democratic governors (Governors Lucey, Dreyfus, Thompson, McCallum, Doyle and Walker)
She has been recognized for her contributions by receiving many honors and awards including the LWV State Advocacy Award, UWGB Distinguished Alumni Award, UWGB Distinguished Service Award, St Mary's Hospital Outstanding Service Award, WI Public Service Volunteer Appreciation Award, Women of Vision YWCA, American Cancer Society National St. George Award (ACS highest honor); Zonta Achievement Award-Science and Technology, United Way Wm. Heraly McDonald Service Award, Wisconsin Nurses Association Legislative Nurse of the Year, JC Penney Golden Rule Brown County Volunteer of the Year Award, Green Bay YWCA Woman of the Year-Health Care, Wisconsin Technical Colleges-Teacher of the Year, Professional Excellence Award-NWTC, Sigma Theta Tau, Kappa Pi Chapter-Nursing Honor Society and Fellow, Advocacy Institute, Washington, DC.
In addition to her many activities Pat is a seasoned traveler and has visited all continents, all states, and most countries throughout the world. A tireless and effective leader, she has helped to bring positive change to public health policy and legislation at the highest levels. She is a generous mentor who empowers others to strive for lasting contributions that benefit society. She kindles the spirit of service to community in all aspects of her life.