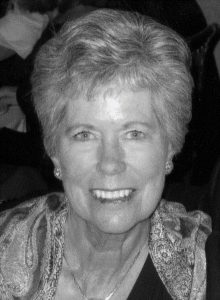 Known to friends and family as "Inky", Engrid was born in Rochester, Indiana on May 3, 1944.  Her family, prompted by her ophthalmologist father's love of the outdoors, moved to Green Bay when she was five.  She was the salutatorian of her East High, class of 1962, and then enrolled at DePauw University to earn a degree in education.
The daughter of Oliver and Lucyanna Hitch had a vivid and compelling example to follow.  Her parents were very active in their church and in numerous charitable organizations.  The Hitches were a close-knit family and the children were encouraged to give some of whatever money they earned to others.
"For I was hungry and you feed me."  Remembering Christ's words in Matthew's Gospel, the newly married Engrid Meng suggested to her husband that they begin to tithe. At the time, Jack was enrolled in graduate school and her teacher's salary ($5,200 annually) supported them.  Jack agreed and a partnership of giving had begun.  Hard work and good fortune enabled the couple to gradually increase their charitable giving – the work of the Jack and Engrid Meng Foundation is visible in Green Bay and beyond.
After Jack was awarded his MBA, the young couple moved to Green Bay where Jack had accepted a job offer from Schreiber Foods.  Engrid taught at her alma mater, East High, but had to quit when she became pregnant – pregnant teachers were not allowed in the classroom then.
As Engrid and Jack raised four children. They found time to give to others.  Beginning with church and school activities, Inky's involvement in local organizations steadily increased.  Her name appeared as president of numerous groups, and even more frequently as a "hands on" volunteer.  She has cooked meals for the homeless, taught Hmong families about American food, shelved library books and rung bells for the Salvation Army, during the Christmas season.
Her activities acquainted her with the need for affordable housing.  Millard Fuller's message, in a speech at Union Congregational Church, "Give a Hand Up, not a Hand Out," spurred Inky to action.  In 1991, she founded the Ecumenical Partnership for Housing, a partnership of six churches to provide transitional housing to needy families selected by The Salvation Army.  She was the founder and Co-Chair of the Mayor's Neighborhood Resource Board in 1995 and in that capacity, obtained $16 million in Wisconsin Housing Funds for Green Bay.
Almost every board or partnership dealing with housing for the needy and disabled has benefitted from her expertise and quiet leadership.  She has received numerous awards and honors, national, as well as local.  In 2001, Inky was one of 9 recipients of the Award for Resident Leadership Development from The Neighborhood Reinvestment Corporation in Washington D.C. Also in that year the Green Bay Neighborhood Leadership Council established the Inky Meng Award for Resident Leadership and presented the inaugural award to her
Of course, meeting housing needs is not an inexpensive challenge.  Not only have the Mengs been generous donors, but they both have led numerous successful fund drives.
Since she became involved in the community's housing needs, Engrid notes that she sees more grass roots action now, as neighbors begin to upgrade their own properties in response to improvements in their neighborhoods.  News articles have highlighted decreases in crime as housing conditions improve. From one Neighborhood Association in 1995, there are now 34; seven past Association presidents have become active participants in local government.
The Mengs give their time and money thoughtfully, focusing on the needs and causes that they care deeply about.  "Our parameters are the poor, the hungry, the homeless, the physically and mentally challenged in Brown County," Engrid explains, referring back to Matthew's gospel.  The Jack and Engrid Meng Unity Hospice Residence has brought comfort to many, as the end of life approaches.  Engrid is a cancer survivor and the center is an expression of gratitude and thanksgiving.
Engrid and Jack are particularly proud of their four adult children.  All of them are following their parent's example, volunteering and donating in their own communities.  Nine grandchildren are now learning about philanthropy and may someday carry on the Meng tradition of giving.
A favorite saying of Inky's is "You begin to eat an elephant one bite at a time." That's how Engrid views the quest to improve other significant issues.  She advises young women to try a lot of activities and to investigate many organizations as they begin to look for ways to make a difference.  "Remember that you can't do everything.  Find something that ignites your passion and then give it your all. And, don't forget how to eat the elephant."