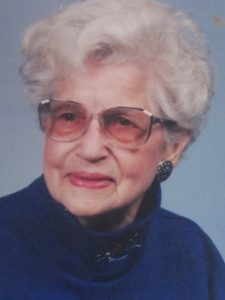 Edna led a full and interesting life until her death on May 28. 2007 at the age of 99.  She was born in Anderson, Indiana on March 16, 1908 to Clarence C. and Emma Jane (Kiphart) Davis.
In 1927, she began her teaching career in Indiana, in a one-room school, teaching all eight grades. She was a graduate of Valparaiso University and after moving to Green Bay, taught at Nicolet, Tank, Elmore and Jackson elementary schools. She also taught at a Navy- Marine Base in Japan from 1958 to 1959 and at an Army Base in Italy from l963 to l964.  She loved teaching and loved the children and taught for 37 years before retiring in 1973.
Edna was active in many local associations including the Green Bay Cilvic Music Association, Woman's Club of Green Bay and Audubon Society.  She also served as president of the American Association of University Women (AAUW) and as Regent of the Nicolet Chapter – Daughters of the American Revolution (DAR). She was also a member of several community projects including the People to People Program, Brown County Literacy Program and the Mayor's Beautification Committee. As a member of Resurrection Lutheran Church, she served as organist, as a member of the church Council, and as president of the Church Women. After moving to DePere, she also became a member of St . John Lutheran Church.
One of her treasured memories, later in life, was of teaching on the U.S. Naval-Marine base in Iwakuni, Japan. Among the American children of the U.S. Navy personnel that she taught was Mary Beth Anania, who grew up to be Elizabeth Edwards. In her book, "Saving Graces", Elizabeth Edwards fondly recalls her 4th grade class-room in Japan and her teacher, Edna Defenderfer, as "the best teacher I ever had".