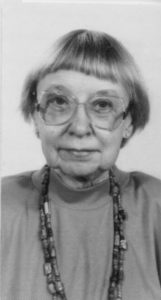 This week we are introducing a new column for the feminine readers of the Journal Democrat – a sort of miscellaneous column which we hope will be of interest to the home makers in and about De Pere. We're going to pass along to you household ideas, fashion tips and recipes as well as general information which might prove interesting and useful to you. This paragraph written by 22 year-old Marie Schmitt Creviere in the January 18, 1948 issue of the De Pere Journal-Democrat introduced "Susie's Mommy Says", a column which ran for over a half century. In a 1966 address to the Wisconsin Press Association on writing personal columns, she reflected, "I found it terribly difficult to write about why every housewife should have a washboard when, I not only didn't own one, I didn't want one myself." Over the decades she shared the humorous side of parenting in these letters to her readers. In a post-war era when women were being urged out of the workforce, Marie was entering a career that lasted a lifetime.
"Mine is an informal column, almost like a letter with very little editorializing since we already have an editorial page," she told editors. But it sometimes promoted community needs: when the Odanah Indian Mission was flooded and she was unable to coax women's clubs into holding a clothing drive, she ran a plea in the column which filled several truckloads for the mission. Born in Greenleaf, Wisconsin, the second child of Frank Schmitt, a barber who immigrated from Germany and his wife Catherine Kettenhofen Schmitt, Marie entered first grade at five. After graduation from St. Mary's East Wrightstown, she attended East De Pere High School graduating just shy of her 17th birthday. It was there that she first noticed Paul J. Creviere when he asked her to pass a note to his girlfriend in freshman Latin class. Paul always said it was the last note he ever passed to someone else. Paul was her greatest influence and loudest cheerleader. He believed that she could do anything she set her mind to. He told everyone, and she believed it. Before they married in 1945, she worked as a secretary for Larson Canning Company and later as secretary to attorney Fred Will in Green Bay.
Her newspaper career began in 1948, when her father-in-law and publisher of the newspaper, John A. Creviere, lost his secretary – bookkeeper. Marie filled in and, as time went on, took on more and more writing responsibility. In 1956 she became managing editor and editor in 1979. Passionate about big designer hats, she freelanced articles and was a correspondent for the Milwaukee Journal-Sentinel to support her "Mr. John habit".
Her dream was to travel internationally with the Press Association and, once her children were raised, she and her husband, Paul, not only ran the De Pere Journal Democrat, they traveled to over 50 foreign countries and "Traveling with Susie's Mommy" was born. Readers may have been familiar with countries through the news, but "Traveling" brought a very personal side to countries at a time when personal stories were rare. In the early 1970s, for example, the press corp scheduled a trip to Poland, then behind the Iron Curtain, and the column contained the intimate details of daily life, shopping, encounters with the people, and exchanges with cab drivers about the economy. She interviewed people in South Africa's Soweto Township, Russia, China, and Cuba long before they were opened to tourists.
Second Wave Feminism emerged as Marie was hitting full stride in her career. As one of the few high profile professional women in De Pere for young women to see as a model, they often asked her advice. A trailblazer is not a revolutionary, but rather, the force that paves the way. Resistant to the movement, when asked about "women's liberation" her response was that if they wanted to have a career, they needed to do it themselves – and then led by example. Because she wrote the sports news for the paper, she became the first woman to be accepted into to Mike & Pen, the professional sports writers group in Northeast Wisconsin. She was the first woman in the Wisconsin weekly newspaper field to be invited to join Sigma Delta Chi, the society of professional journalists.
Of the few times her column was missed, the most striking and painful skip was the week the fourth of their five children, three-month old John Gerard, succumbed to "crib death." It was a time when little was known about the Sudden Infant Death Syndrom and when there was little access to that knowledge. Some of the humor faded from her life. Coroner Tim Blaney assured her that SIDS was not uncommon but, since there was so little available information, families suffered in silence, in guilt and often broke from the burden. From then throughout her life she called, visited and wrote, comforting hundreds of families who lost children to SIDS.
Among the accomplishments she was most proud of was editing Feasting with the Fourth Estate, a cookbook published in 1976 by the Wisconsin Press Association. As an excellent cook who turned out home-cooked meals daily, canned copious amounts of pickles, relishes and jams, and could prepare a spur-of-the-moment dinner party while sipping a brandy Manhattan – never appearing to leave her guests, she assembled a committee of journalist-cooks to produce the 400-page book.
When Paul and Marie were jointly nominated for the De Pere Rotary Club Roses for the Living Award, the reason for the dual-nomination was that they have been inseparable in their community efforts. Marie served as a member of the De Pere Mayor's Advisory Committee, the Girl Scout Advisory Board of Directors, the Visiting Nurses Association board, and helped in raising funds for the first Chicago exchange program which brought inner-city children to De Pere for a week's vacation. In 1980, Marie chaired De Pere's Get Out the Vote Drive which produced a 100% voter turn-out. She wrote the proposals for the purchase and renovation of White Pillars, the home of the De Pere Historical Society. Other organizations she served include chairing the Mother's March on Polio, the National Newspaper Association's legislative contact team, and was the De Pere representative for the Crime Prevention Association of Brown County serving as the contact between them and informants so that the identity of the informant was never revealed. She also served on the state board of directors of the Wisconsin Council of Catholic Women, was past president of St. Mary's Christian Mothers and an honorary Kentucky Colonel.
A reader once told Marie that only she could find humor in a midnight dishwasher leak that soaked the kitchen and flooded the basement and she often worried about a child with no sense of humor. "If she can't laugh, she'll never get through this life" she believed. Fifty-years of writing to her readers is best summed up with her closing comment to journalists in 1966, "We are all humans and under the skin we're all very much alike – charming and fascinating human beings – and if I am trying to convey any 'message' per se, this is probably it."