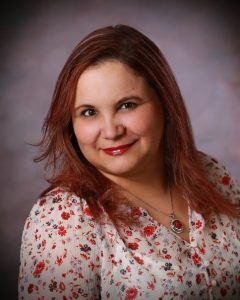 Seniasor Rodríguez Gómez has a Bachelor's Degree in Social Work from the University of Puerto Rico earned in 1997.  Since that time, she has been working in different scenarios, all related with community.  In 2001, she moved from Puerto Rico to Green Bay and became very involved in the community, especially with the Hispanic population.
In 2005, she began working for the Green Bay Public School District as a Family Advocate in their Head Start program.  While the Family Advocate in the Head Start Program, she noticed the need in the Hispanic community   for Bilingual Counselors.  In 2010, she decided to return to school with the goal to become a Professional Bilingual Counselor and in some form mitigate, through facilitation of counseling services, the day by day issues and struggles in her community.   She enrolled in the UW-Oshkosh master degree program for professional counseling.  At the time, she was working as a Student Engagement and Attendance Support Staff at Preble High School, and raising her four children, ages of 18, 17, 8 and 3. It was very hard but she credits her husband's strong support for making her dream happen. She had financial assistance for her Master's program from an AAUW Career Development Grant to cover a year's tuition, fees and expenses along with the ESTRELLA Grant offered through UW-Oshkosh to help her complete her degree. Without this assistance, her dream probably would not have happened.  She received Master's degree in Professional Counseling in 2016.  She is the first child in her family to earn a Bachelor's and Master's degree.
Her Wisconsin education and in Puerto Rico, as Certified Licensed Social Worker accredited through the Social Workers College and Board of Puerto Rico, permitted her to develop admirable skills in building relationships and trust within her clients, co-workers and community in general.
After receiving her Master's Degree in Counseling, Seniasor has been a bilingual professional Counselor for several companies and agencies in the Green Bay area and the Fox Valley.  She says "since very early in my teenage years, I was driven to serve, help and support people of any age. I found my calling in the careers of Social Work and Counseling.  Over the years, I have worked with Hispanics families with children, couples and/or children.  I use a collaborative approach to therapy with emphasis on Family Dynamics, Cognitive Behavioral Therapy, and considering the faith of the individuals if they want to use it in the sessions.  I work with families adjusting to change and finding ways that seems effective for them to cope with daily life struggles.
Seniasor has also worked as Job Coach through Department of Vocational Rehabilitation, as Community Social Worker for about five years in Section 8 Housing Projects, in charge of 600 families caseload, as Resident's Council Coordinator in 11 housing projects and supervising about 75 people within employees and residents, as Bilingual Parent Educator/Teen Mentor Coordinator through Children Service Society, as Parent Instructor for Hispanic and Hmong families through Even Start Program, as Parent Educator for Hispanic families at Ft. Howard Family Resource Center, as Bilingual Paraprofessional Sub doing translation for students, parents and administration staff at the assigned schools, as Bilingual Caseworker at a Community Shelter, as a Student Engagement and Attendance Support Staff in a High School, and currently as a Professional Bilingual Counselor permitted her to work and understand all kinds and types of diversity.
As a community leader, Seniasor had been involved in past years with a few community organizations as:  Hispanic Community Council of NEW, Hispanic Festival and Parade Committee, Founder of the Puerto Rican Association Perla del Caribe, Coordinator of the Rainbow Festival through Multicultural Center of Green Bay, volunteering in Green Bay District Schools events, active participation in the development of a leadership curriculum for Women's Minorities through Volunteer Center, and  developed an anti-gang initiative within High School students.  She has helped plan community activities and events such as Juneteenth Celebration, Diversity Circles group, Convoy of Hope in Green Bay.  As a recognition of her work, she was the recipient of the Wisconsin Public Service Volunteer in Education Award in 2008.  In addition, she was an active member at different Hispanic churches in town.  In 2011, she along with Jonathan Alvarez, her husband, were founders and Pastors of CREC Nation (Centro de Restauracion El Camino). She continues serving the members of CREC.
 Her husband noted that the best quality Seniasor has as a person is how much she believes in the ability of each individual to change when they have an opportunity, a safe space, a supportive and encouraging voice.  She had been a strong inspiration and encourager of others to see beyond their current circumstance and try their best.  While working at a full-time job, managing motherhood for her four children and two granddaughters, pastoring her church, being involve with the community, she still has strength to motivate others to keep going.   Seniasor has been an inspiration, a motivator and a catalyst for change in her community.