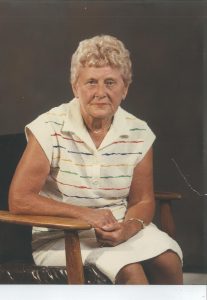 Ruth Hansen Van Epps was born in 1906 in Manitowoc, WI. She was the daughter of a shipbuilder and since she was twelve years old, she dreamed of becoming a lawyer. It was an extraordinary dream for a young girl at that time. In 1918, it was out of the norm for women to go to college and even more rare for them to practice law.
Van Epps was always a good student and she was determined to make her dream come true. Her parents could not afford to send her or her sister to college especially, after her father became ill and lost his job. When Van Epps was finished with high school, she was awarded the opportunity to work and study law at a local law firm. Right out of high school, she began working at the law office of Kelley, Wiseman and Muchin. Arthur Wiseman was a friend of her mother. This began Van Epp's journey to becoming a lawyer. She never attended law school, but instead read the law for 12 years, studying under attorney Wiseman. Her life was consumed with work and study during this time. Van Epps also took extension classes in order to meet the necessary requirements.
In 1936, Ruth Hansen Van Epps passed the bar exam. When she took the entrance exam that was needed to take the bar exam, she received the highest score ever recorded. She was one of only two women to pass the bar exam in 1936. In 1998, the state honored Van Epps as one of the first 150 women to become a lawyer in the state of Wisconsin. After passing the bar, Van Epps went on to become a partner at Wiseman's law office.
Van Epps was a busy woman and had very little time to date. However, in 1941, a family member introduced her to Kenneth Van Epps. They were married the same year.  She adopted his three young daughters, whose mother had passed away and moved to Weyauwega, where she started her own law firm. Van Epps enjoyed having a purpose in life and helping people. Her practice focused primarily on taxes, estates, wills, farming and real estate. She practiced law for over 60 years, retiring at the age of 87. From using a floor mounted adding machine, the Dictaphone and eventually a computer. Van Epps saw many changes in her career. There were changes to technology, as well as, radical shifts in the law.  She enjoyed continually learning and the challenges that came along with the job.
Outside of her work and being the mother of three girls, Van Epps enjoyed other hobbies throughout her life. She enjoyed caring for and riding horses. Ruth and her husband had an apple orchard of 200 fruit bearing trees. She was a skilled hunter and enjoyed both hunting with a bow and gun. She and her husband liked to take trips to Canada to go trout fishing.
Van Epps stayed involved in the community and Catholic Church. She was a leader in the girl scout movement and was known to offer her time to fundraisers and study groups at church. She also donated her energy to the Weyauwega Industrial Development Corporation.
Van Epp's husband died in 1975. She continued to live on their farm and care for their orchard after he passed away, although she eventually pared it down from 200 to 29 trees.