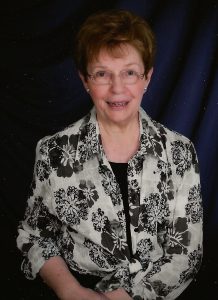 State President 1973-1975
Barbara Dauplaise Bouffard Jenkins was raised in Green Bay and lived on a short street named Oregon on the west side of the city. She graduated from West High School in 1953 and from UW-Oshkosh in 1958 with a major in Four Year Primary Education.  After graduation, she taught first grade at Hoover Grade School in Neenah, Wisconsin.  She dearly loved her first graders.  She was in Neenah for two years, married her best friend from high school, Raoul Bouffard.  They moved to Oconto Falls in 1960, where Raoul taught English and coached football.  In 1964, the couple moved to Manitowoc, where they raised their two children, Anne and David.  She was busy attending sporting events, musical adventures with 4th grade chorus, and many plays.
It was when they moved to Manitowoc that Barbara was introduced to AAUW.  From the very beginning, AAUW became her great interest.  She formed life-long friends, all members of AAUW. Together, they attended local meetings, followed by State and National conventions.  She held numerous offices for the Branch:  corresponding secretary, VP for programming, Branch president (at three different times).  Her organizational skills were noted by State AAUW leaders and she was elected as Division secretary, Division Programming VP, followed by Wisconsin State President.  She ran for and won a three-year spot on the Educational Foundation Board.   This Board met quarterly in Washington, D.C.  The meetings were challenging and devoted to the betterment of women.  The year she won the election, the convention was held in Boston to celebrate AAUW's 100th birthday.  That was her favorite convention.  In total, she attended ten national conventions and at least six Regional Conferences.  She conducted a Foundation workshop with her counterpart from Indiana at the San Francisco Convention and held several meetings on the Regional level.
As a local volunteer, her most rewarding experience was the development of Day Care in Manitowoc.  Along with other organizations, the first day care was started at the local Salvation Army.  As the population at that center grew, it became apparent a center was needed.  So off she went, with five other members of that original board, to start Manitowoc's second center.  This center soon grew and it was decided to have a fund raiser, so a new building designed for small children, aged 2-10, could be constructed.  Barb was the leader of the committee setting up the fund drive.  This heavy-duty commitment and dream resulted in the opening of a Manitowoc Day Care Center in September of 1985.
After her two years as AAUW's state president, Barb received an appointment from the State Supreme Court, to two three-year terms on the Board of Governors for the State Bar.  She was the first woman to receive a three-year appointment.  As the only woman in the room at their meetings, she learned a lot.
Barb also managed to find time to be CCD director at her church.  She also was a sub in the Manitowoc School district at a school dedicated to children with special needs.
Raoul, her husband of thirty-five years died after a kidney transplant.  Her family and friends helped her through this sad time.  Several years later, Jim Jenkins reentered her life.  Barb, Raoul, and Jim had been friends and classmates in the 1953 class at West High School.  Jim and Barb married and spent sixteen years together, before he died of cancer.
Looking back over the years, Barb is most proud of her family.  She never missed any of children's events from kindergarten through UW-Madison or UW-Platteville.   Her motto is "Family is first."  Her dad, George Dauplaise, former principal of Green Bay West High School, gave her this advice which she has followed all of her life:  "The people of a community are more interested in normal, clean minded, honest young people than in brilliant, erratic citizens who cannot be trusted.  Don't misunderstand, you can be both: brilliant mentally and honest as a person.  And always remember that if you do your best, that is all anyone can ask."