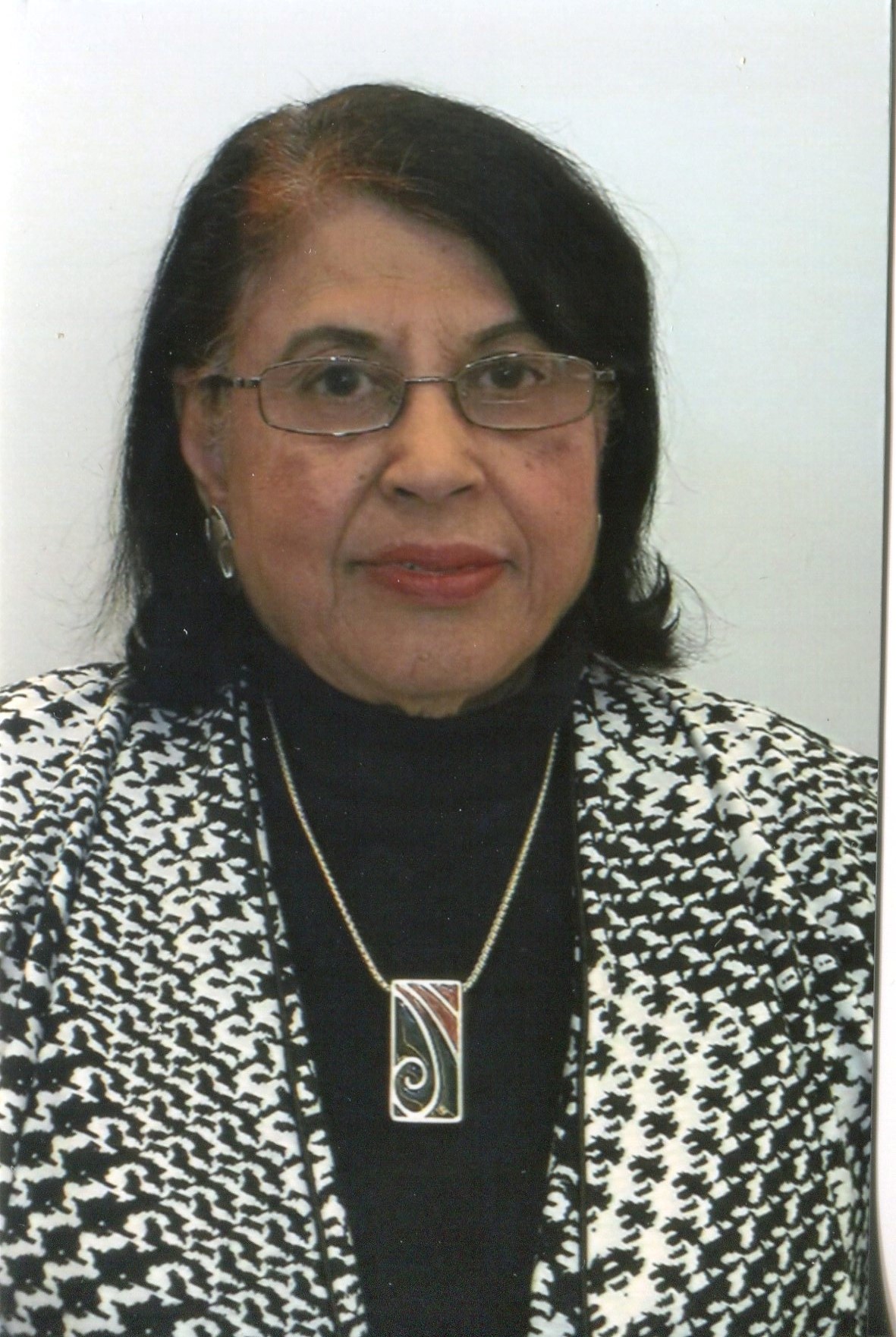 Sajida Begum Shariff was born on December 11, 1942 in Bangalore, India, and grew up there.  She attended government schools; but in 1960, at age 17, in her last year of high school, she entered into an arranged marriage with Ismail Shariff.  After their first son, Mansoor, was born in 1961, she finished her high school education.  Saji says it is her father who has had the greatest influence on her life.  He chose a husband for her who was an intelligent man who wanted higher education.   Her father offered to pay for Ismail's graduate studies in the U.S. in lieu of a dowry.  Ismail then left for the University of Wisconsin, Madison; and when offered an assistantship told his father-in-law the only dowry he would now accept was to have his wife and son join him there.  So they did, and the three of them lived in Eagle Heights, Madison, Wisconsin while Ismail finished his PhD. in Economics, and took a job teaching at the two year campus in Manitowoc, commuting on weekends.  Their second son Mazkoor was born in February of 1967, and the following summer Saji and the boys moved to Manitowoc, where the family stayed, until Ismail was hired by UWGB when it opened, and they came to Green Bay. He is now a Professor Emeritus in the Economics of Urban and Regional Analysis at UWGB.
To meet Saji is to be immediately embraced by the warmth of her smile, the sincere enthusiasm of her greeting, and the infectious energy she radiates. Her outgoing personality found its first expression in joining the UWGB Faculty Wives Club, where she participated in the poetry circle, and found her first volunteer job at "Second Gear", the second hand shop operated by the group.  The determination with which she undertakes any task is clearly illustrated by her desire to become a better bridge player: using a pencil and paper she practiced daily by replaying all four hands of each game reported in the newspaper.  She got so much better she became the first Muslim woman in the U.S. to become a Life Master in duplicate bridge! Using that same determination to expand her horizons, she got connected with volunteering by finding ads in the newspaper, calling to find out what was needed, and showing up offering to help!
Sajida's great skills in bringing people together, creating understanding, and fostering communication among many diverse groups were evident as she planted the seeds for Green Bay's first mosque, helping to give a voice and support to the area's Muslim community.  As a leading participant in the Fox Valley Islamic Society (the mosque in Neenah), she worked with the Multicultural Center of Greater Green Bay arranging a meeting place for Friday prayers at a local church. As word spread and attendance grew, they moved to a new, larger space on Velp Ave. which became the Islamic Society of Wisconsin and the only Islamic Center in Brown County.
Extending her activities to embrace and foster understanding among many faiths, she has organized a yearly interfaith dinner, and breathed new life into the activities of the Mauthe Center For Faith, Spirituality, and Social Justice by starting an international book group, helping students to cook the meals for their weekly "Dinner for a Cause", and introducing a partnership between students at the Center and a village in India.  Looking for a way to address the tension and hostilities arising from 9-11, and the historic  conflicts between Islam and Judaism, Sajida was the driving force and a founding member of the Women's Interfaith group which works to build understanding of religious and cultural differences, through her involvement with JOSHUA, a Green Bay area interfaith social justice organization.  And she has continued to help the group expand its community service activities, like involving them in providing meals for local Habitat for Humanity home-building projects.
Expanding her horizon to connect with other diverse activities, she is an enthusiastic participant in Connecting Our Community, a relatively new agency seeking to foster understanding by bringing all groups into meaningful dialogue through posting on the Internet a variety of interviews and biographies representing our diverse population.  She has also served as discussion facilitator for the Multicultural Center, a cultural liaison for UWGB's Pakistan Project, and an area representative for the Fox Valley India Association.  Her interest in the arts led her to be a board member of the Intercultural Dance Festival, a production volunteer for Wisconsin Public Television, a long-time performer with Skylite Players (a Readers Theatre group sponsored by the Senior Center which does volunteer performances in nursing homes and other senior citizen facilities), and both a greeter and a screener for the annual Green Bay Film Festival.
But of all those who have encountered her creativity, intelligence, boundless enthusiastic energy, and genuine love of people, perhaps the most fortunate are those for whom she has been an instructor.  She has taught Indian Cooking for both the Senior Center and Learning in Retirement, English to Spanish speaking pre-school children at St. Philip School, India fusion dance and Bhangada beat for Hmong children, yoga and laughing (yes, she was a laugh instructor!) at both the Senior Center and Harmony Café. She organized a Polynesian dance group for children and adults, and studied it along with her granddaughter who later became a professional Polynesian dancer.  She has continued an involvement with young people as a volunteer coordinator for the Rainbow Children's Art Festival, an entertainer/clown for the children in the Bellin Hospital cancer ward working together with B'nai B'rith (Jewish Women International), and a presenter on Indian and Islamic culture for many of the area's schools and organizations.
She credits her interest in community involvement to the welcoming kindness of UWGB's Faculty Wives club, whose members offered to baby sit while providing information about and opportunities for activities in the wider world.  When asked what she would most like to be remembered for, she answers unhesitatingly and in quick succession: "My involvement with the Multicultural Center and starting Friday prayer, which led to the Mosque started in the Presbyterian Church; the Ladies Interfaith group through Joshua; the Interfaith dinners at the Mosque; and my general involvement with the Mauthe Center."  "My passion", she continues, "is bringing people together, being hospitable and warm to everyone, treating others as you would be treated, connecting, respecting, and loving all people."  Her message for other women is:"With good intentions and positive thinking, you can reach the sky!  Always respect everyone, and don't underestimate anyone."
And as an example of  living that  message, Sajida Shariff's immensely productive work  has had a deep and lasting impact; she has accomplished more than one person normally could in making our community more inclusive and welcoming  – truly a better place in which to live…