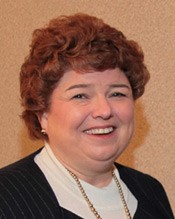 Diane is a pioneer and overcame gender barriers as the first woman hired in the history of her company with a college degree. She is an advocate and leader for people at her work and in the community. She sets her goals high and then works hard until she accomplishes them. She credits her early success to the wonderful coaches and mentors she had in her life and now passes on those qualities to the people she coaches and mentors.
All you have to do is watch Diane in action, and you will quickly see that she has always worked hard to make her dreams and those of others come true. Diane started out as a Corporate Accounting Assistant at Wisconsin Public Service Corporation (WPSC) after receiving her Bachelor's Degree in Managerial Accounting from the University of Wisconsin – Green Bay (UW-GB). She received the title of Corporate Financial Accountant while obtaining her Master's Degree in Business Administration from the University of Wisconsin – Oshkosh (UW-O). She then earned her Certificate in Management Accounting (CMA). After that, she was named the Corporate Accounting Supervisor, Administrator-Corporate Accounting, Controller, and then Vice President-Controller and Chief Accounting Officer of what has now become Integrys Energy Group. In 2012, she retired after 37 years with Integrys Energy Group (formerly WPSC). She has seen the company go from being a small electric and gas utility in northeast Wisconsin to what became a multi-state, multi company energy company serving customers all over the United States and Canada. Diane achieved a personal milestone of being named the first female vice president in WPSC's history.
Diane has always given back to the community. Using her extensive knowledge of accounting and finance, she is a wealth of information to help make these organizations function efficiently and effectively. Some of the groups Diane has or is working with include: Women's Fund for Greater Green Bay, Greater Green Bay Community Foundation, Green Bay YMCA, Girl Scouts, Adopt-A-Classroom Tank School Tutor, Neville Public Museum, Oral Health Partnership, and UW-GB. She helped establish the UW-GB Foundation and, as a founding board foundation and, as a founding board member and treasurer, made its first donation, a generous gift to establish a new endowed scholarship fund for UW-GB students. As you can see from this large list, Diane's volunteer activities focus a lot on organizations or groups dedicated to helping children and families.
For example, two of the programs she helped develop using her leadership skills include; – establishing Community Coordinated Care – the first Childcare Resources and Referral Agency in Green Bay, to address the needs of parents looking for quality childcare and to address parenting issues. It has become part of Family & Childcare Resources of NEW, and -transferring a tutoring program in schools by community members, her Leadership Green Bay project, to people at Wisconsin Public Service Corporation who continued tutoring at low income elementary school. She also organized the annual bake sale and silent auction at her work to raise money for field trips and books for the students.
These efforts were recognized by several organizations. She received the Greater Green Bay Chamber Athena Award, in 1994, for demonstrating excellence in their business or professions, generously assisting in the advancement of women, and devoting time and energy to serving their community. At the spring 2011 commencement program, Diane was presented the Chancellor's Award, UW-GB highest award, in recognition of her sustained commitment to the University and the region it serves. She has also received the YMCA Wisconsin Cluster MRC Key Leader Award, the UW-GB Distinguished Alumni Award, the UW-O Outstanding Business Alumni, Lac Baie Girl Scout Council Esther Bie Community Service Award, and the Zonta Club Business and Industry Award to name a few.
She also was involved on a national level, chairing various committees for her company's trade associations, the Edison Electric Institute and the American Gas Association. In those roles she worked with other accounting executive's from across the USA utility industry. She was able to make presentations to and work with both the Securities and Exchange Commission (SEC) and the Financial Accounting Standards Board on topics important to the industry. This work, combined with everything else she has done, led her to being named one of "30 Outstanding Women in Finance" by the national Treasury and Risk Management magazine in 2012.
Even with everything Diane has done in her life, nothing has been more important to her than her family. She has a supportive husband, Pat, who she also calls her best friend. He has stood beside her through thick and thin, supported her to help her grow both personally and professionally, and has always been there to offer encouragement to continue to follow her dreams. They have two daughters, Melissa and Christy, whom they have tried to instill with the importance of family, the value of hard work, the need for a strong religious faith, and the satisfaction of giving back to others.
However, Diane's greatest supporter and cheerleader would be her mother. She has always known Diane would succeed in whatever she chose to do, because of her ambition and drive. She has watched Diane grow from being the leader and oldest of eight children at home, to being a leader both at work and in the community.
Diane sets her goals high and then works hard until she accomplishes them. She is an advocate and leader for people at work and in the community. She works hard to mentor and support other women. She truly believes that your greatest satisfaction comes when you create and build on new relationships, learn new skills, and see how much people truly appreciate what you have done.