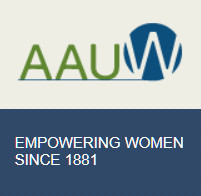 The American Association of University Women (AAUW) is the nation's leading voice promoting equity and education for women and girls. Since our founding in 1881, AAUW members have examined and taken positions on the fundamental issues of the day — educational, social, economic, and political.
AAUW is a nationwide network of 150,000 men and women with over 1,000 local branches and 700 college and university partners who work to fulfill the AAUW mission of advancing equity for women and girls through advocacy, education, philanthropy and research.
We are non-profit and non-partisan. We do support and advocate for issues, especially those involving equity. We work to break through educational and economic barriers so that all women and girls have a fair chance. We also support AAUW Fellowships, Research and Project Grants, the Legal Advocacy Fund, the Leadership and Training Institute, and the National Conference of College Women Student Leaders, all 501(c) 3 funds that carry out AAUW's educational and research work.
A summary of the Mission, Vision, Values with a link to full report 2018 AAUW Strategic Plan