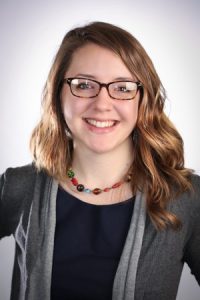 Jennifer Grace Schanen-Materi was born in 1986 and grew up in Port Washington, attending public school for grades K-12. She moved to Green Bay in 2004, to pursue a bachelor's degree at UW-Green Bay (UWGB).  Since she had studied ballet, tap, and jazz dance for about 15 years at that time, she was initially drawn to the dance minor at UWGB. While dancing and completing general education requirements, Jen discovered the Social Work Program and was attracted to the profession's values of social justice and equity. She completed an internship at Golden House Family Violence Center during her senior year, and graduated summa cum laude with a Bachelor of Social Work (BSW) with minors in Spanish and Dance in 2008.  In 2013, Jen earned her Masters in Social Work from UWGB.
After college, Jen served in Americorps National Civilian Community Corps (NCCC). She hoped to serve communities while travelling the country and she was not disappointed.  Based in Sacramento, CA for training, she completed projects in Houston, TX; Hattiesburg, MS; New Orleans, LA; Sisters, OR; and Salt Lake City, UT during her ten months of service. Projects included hurricane disaster relief, home rehabilitation, managing a Habitat for Humanity warehouse, forest care, and serving as a camp counselor for children and adults with disabilities.  She has also traveled with Habitat for Humanity to help build houses in El Salvador and Trinidad & Tobago.
Upon completing AmeriCorps service, Jen returned to Green Bay and struggled to find work in the midst of the recession—2009.  She held a number of odd jobs as a waitress and personal care worker until she was hired, in 2010, by Wise Women Gathering Place (WWGP), a nonprofit organization serving primarily Native American children and families.  There, she worked for six years in the capacity of Program Outreach and Evaluation Specialist.   Jen coordinated the domestic violence, sexual assault, and teen pregnancy prevention and outreach efforts.  These efforts were both in direct practice settings with youth and community, and in program development and evaluation capacities.
Jen was proud of her work with the Wise Youth Group, which quadrupled in membership and grew to include a facilitation and leadership component for high school students during her time at WWGP.  She also worked diligently to evaluate their healthy relationships curriculum, Discovery Dating, for effectiveness in preventing risky behaviors.  Wise Women Gathering Place seeks to promote peace, respect, and belonging and Jen found her own personal values quite aligned with all of their work.
She supervised several UW-Green Bay social work interns during her time at Wise Women Gathering Place.  Because of Jen's successful supervisory experience with UWGB interns, she was asked to join the Social Work program as an ad hoc for the 2014-15 school year.  When a full-time position as BSW Field Coordinator and Lecturer opened in the spring of 2015, she applied and was hired. She coordinates placement of BSW students into community-based internships throughout the Northeast Wisconsin and teaches courses in social work skills, methods, and program evaluation.  Jen teaches primarily at the undergraduate level.  Her interests include group facilitation, program evaluation, historical trauma and healing, challenging mechanisms of privilege and oppression, and mezz-and macro- practice.
Drawing on her experiences as an evaluator at Wise Women Gathering Place, Jen presently instructs the Program Evaluation sequence in the Bachelor of Social Work Program at UW-Green Bay.  Annually, her students take on an applied research project in partnership with a community agency.  This course sequence allows students to gain a deeper understanding of program evaluation in a real-world practice setting.  Some of the areas evaluated in this program under Jen's leadership are:
*the Teens 2 Work Program offered by Boys & Girls Club.  Each BSW student administered surveys in person at Boys & Girls Club reunion events to find out about career, educational attainment, and financial well-being of Boys & Girls Club alumni,
*a community wellness needs assessment with the Live Algoma initiative
*a phone survey of nearly 200 participants of the White Bison Program offered at Wise Women Gathering Place
*a needs assessment with Brown County United Way to learn more about individuals who are asset limited, income constrained, and employed.
This course sequence allows students to gain a deeper understanding of program evaluation in a real-world practice setting.  By the end of spring semester, many students remark that while this course is difficult, it has instilled in them an appreciation for research and its role in ethical social work practice.  Jen also takes students to various conferences to present their results.
This course also allows the BSW Program to help a community organization learn more about a particular research question that they might not be able to explore on their own.  Jen feels very proud of how this work helps community organizations increase their knowledge of important issues facing their agency and community.
Jen was married to Jacob Materi on May 5, 2018 at St. Mary's Catholic Church in Appleton.  They finalized the purchase of their Allouez home just days before the wedding, and are happily settling into life just a block away from their favorite ice cream spot– Zesty's.  Jen continues to volunteer at Wise Women Gathering Place. Jake works as a Claims adjuster for Ameriprise financial, and keeps busy as a member of the Fox River Hurling Club. They have one social and snuggly cat, who keeps them entertained with her sweet shenanigans.