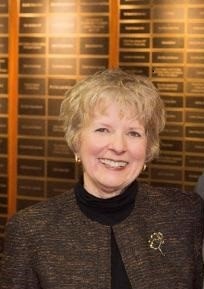 Those who live in Green Bay will recognize the name of Judith A. Johnson not only as a pioneer in the financial world but also as an advocate for women. Over the last 35 years, she has immersed herself in the community by sharing her experience as a businesswoman and entrepreneur. She has opened doors and created opportunities for hundreds of young women longing to change their lives and make a difference.
Judy began working as a financial consultant in the Green Bay area in 1982. She was one of only three area women in the field at the time. This, by default, put her in a unique leadership position. She capitalized on the situation and developed her own holistic approach to finance. While many financial planners were only attentive to the financial aspects of the business, Judy took great pride in providing those she served with a big picture view. She helped them consider how the varied aspects of personal and financial well-being are intertwined and how they could work together to achieve greater financial goals. This became her trademark, winning her the respect and life-long support of many clients.
While Judy was building her own business at Johnson and Wachholz Financial Services, she found time to mentor other women as they pursued financial careers and, for those who needed it, she acted as a sounding board for personal matters as well. One of her favorite quotes explains her motivation: "Take pride not in your success but in what you have helped others achieve."
To understand Judy is to appreciate her background. She was an only child born on the northwest side of Chicago. Her mom was involved in the church and her dad helped neighbors with any projects he could. Community was an integral part of the family's lifestyle and Judy's parents included her in everything. They doted on her and always made her feel amazing. Because of this, Judy never saw barriers in what she attempted to accomplish.
"Girlfriends," Judy said, "have been the greatest influence in my life."  She and her next door neighbor, Pat, became best friends at the age of three and have remained so to this day. Although many of her closest friends are still those from her grade school years, Judy became adept at networking and soon found herself joining countless women's groups, both formally and informally.  It didn't matter how Judy did her networking – mingling over a regularly-scheduled breakfast with a small group of colleagues, brainstorming with a mastermind group, or connecting with the magical team of ATHENA Leadership Award recipients – she built connections, developed friendships and made a difference locally.
Judy received the Greater Green Bay Chamber of Commerce's ATHENA Award in 2001. This honor symbolized her years of professional excellence, generosity in the advancement of women and service to the community. The same year, Judy received the Nancy A. Felhofer Award for Professional Achievement from Management Women, Inc. and the Zonta organization's Entrepreneur Award. She was a finalist in the Ethics in Business Award conferred by the American Foundation of Counseling Services in 2013; and years earlier, she had earned the Presidents' Award from Wisconsin Women Entrepreneurs.
All of the other honors Judy has received are too numerous to list. There is one, however, in which Judy is especially proud. In 2006, fellow graduates of Leadership Green Bay presented her with the Leo Frigo Leadership Award, their highest honor bestowed only to volunteers who have made a significant, continual contribution to the program and to leadership in the community. She had acted in a multitude of capacities, including as chair of the LGB Program.
Today, involvement with the Women's Fund of Greater Green Bay Foundation is a key commitment for Judy. She co-hostesses a friendraiser garden party every year for the organization because, in her words, "It supports programs that help women and girls become aware of their strengths and learn the importance of helping other women."   She is also a legacy donor and founding sponsor of the Power of the Purse luncheon held annually to celebrate the tremendous impact made by the Women's Fund.
In addition, Judy was instrumental in founding the YWCA's Women of Vision and contributes annually to support programs focused on helping young women and families. She is currently a member of the Community Advisory Committee for Friends of St. Vincent Hospital (previously she had been chair of the Major Gifts Committee) and serves on the St. Norbert College Gift Planning Advisory Council.
Judy married her husband Darryl in 1969 shortly after graduation from Northern Illinois University. Her love of gardening and his natural gift for landscaping helped them be chosen to serve as a Host Garden for the Green Bay Botanical Garden's Annual Garden Walk twice. They also won the Allouez Beautification Award for home gardens and the Silver Trowel Award from the Gardeners' Club of Green Bay.  This is one reason the annual Women's Fund garden parties have been so successful.
Judy and Darryl are proud parents of their daughter, Kristin, and have two grandchildren, Ruthanne and William who live in Madison.